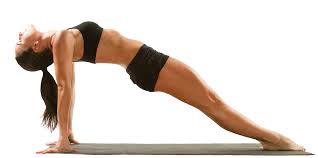 For the last 21 years I've always done weight training and cardio to stay in shape… but now that I'm approaching 60 years old my body is changing. My joints can't handle many of the jarring movements I used to be able to perform when I was younger.
If you can relate I have some good news for you. Pilates can help…
Pilates exercises were developed by Joseph Pilates (1883-1967).  He was born in Germany and as a child battled with asthma and other sicknesses. He looked to exercise to heal himself of all his infirmities, studying Eastern and Western forms of exercise including yoga. He was into body building and martial arts and started an exercise/dance studio with his wife in NYC as early as 1923.
So…Why is Pilates so good?
Number ONE REASON:
It's low-impact and great for joints. Dealing with knee injury, joint pain, or building strength during injury recovery? A Pilates class is a great place to start. Using the Reformer (see machine below) provides low-impact on the joints. It helps improve joint stability, making it a great addition to your workout regimen, especially if you're a runner or often do intense cardio that may be hard on your joints.
In 1980, the first modern book on Pilates, The Pilates Method of Physical and Mental Conditioning, (Philip Friedman) was published outlining  6 "Principles of Pilates".  The following principles are taken from this book.
Concentration
Pilates demands intense focus: "You have to concentrate on what you're doing all the time. And you must concentrate on your entire body for smooth movements." The way that exercises are done is more important than the exercises themselves.
"Contrology" was Joseph Pilates' preferred name for his method, and it was based on the idea of muscle control using one's mind. "Nothing about the Pilates Method is haphazard. The reason you need to concentrate so thoroughly is so you can be in control of every aspect of every moment." All exercises are done with control, the muscles working to lift against gravity and the resistance of the springs and thereby control the movement of the body and the apparatus. "The Pilates Method teaches you to be in control of your body and not at its mercy."
Centering
For exercisers to control their bodies, they must have a starting place: the center or CORE. The center is the focal point of the Pilates method. The core is the "powerhouse".  All movements in Pilates should begin from the center and move outward to the limbs.
Extra emphasis on core. While Reformer classes provide a full-body workout, they're especially focused on improving core strength. Core strength ultimately helps you to be more balanced in other workouts and everyday life.  And core doesn't just mean flat abs! This also helps strengthen your back, protecting your spine and posture.
Flow
Pilates aims for precision of movement with smooth transitions. . Once precision has been achieved, the exercises are intended to flow within and into each other in order to build strength and stamina. In other words, the Pilates technique asserts that physical energy exerted from the center should coordinate movements of the extremities.
Precision
Precision is essential to correct Pilates: "concentrate on the correct movements each time you exercise, otherwise you'll do them improperly and thus lose all the vital benefits of their value". The focus is on doing one precise and perfect movement, rather than many halfhearted ones.  "You will gain more strength from a few energetic, concentrated efforts than from a thousand listless, sluggish movements".
Breathing
Breathing is important in the Pilates method. He believed that  "bodily house-cleaning with blood circulation" was part of his method. He saw considerable value in increasing the intake of oxygen and the circulation of this oxygenated blood to every part of the body. It is cleansing and invigorating. Proper full inhalation and complete exhalation were key to this. "Pilates saw forced exhalation as the key to full inhalation." "Above all, learn to breathe correctly." was his mantra!
[pro_ad_display_adzone id="8825″]
The REFORMER:
It's multiple gym machines in one. Confused at the gym? Don't know which machine to use? Want to work multiple muscle groups simultaneously? The do-it-all-for-you Reformer is the Pilates machine to work your core, legs, booty, arms, and back muscles — Couldn't be easier.
Shaun is personally hooked on weight training with dumbbells or using his own bodyweight, but there's no denying the benefits of Pilates for those in need of low impact exercise or having to work around injuries and limitations.
Enjoy!
Karen