Earlier this week we highlighted five of the biggest reasons you should add planks to your regular workout to blast your core and other major muscle groups, improve your flexibility and balance, and prevent potential back problems.
In short, the plank is one of the best exercises both men and women can do for developing a flat, toned and defined stomach while helping reduce potential strain on your back.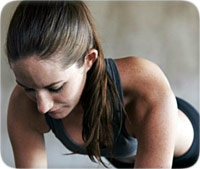 Today let's get right into it by illustrating the four fundamental plank positions for starting out with this total body exercise.
We'll also point out plank tips and keys to focus on to ensure you maintain the correct form in each plank position in order to get the best possible results in minimal time, as well as modifications you can use if needed before progressing to the standard plank form.
Keep in mind that many people can't last 30 seconds on their first attempt at maintaining correct form in a plank, so stay patient when building up your time on these exercises and make sure not to sacrifice form for duration or your muscles won't get the full benefit of the exercises.
A great plank workout plan is to rotate through the four positions below, holding each one for 30 seconds initially, working your way up to 1-minute holds for each. After completing one set, repeat the rotation two more times for a total of 3 sets.
Basic Forearm Plank
The forearm plank or low plank is what most people think of when the word plank comes up in reference to exercise (as opposed to the thankfully short-lived planking fad from a few years back).[pro_ad_display_adzone id="8825″]
For the forearm plank, you'll want only your forearms and toes touching the ground, with your elbows bent at 90 degrees and set directly under your shoulders. Your feet should be hip-width apart and your elbows shoulder-width apart, and you can either clasp your hands together or keep them apart.
The key with all planks is to focus on keeping your body in a straight line from your head to your heels, ensuring your butt neither sags nor rises above the straight line of your body.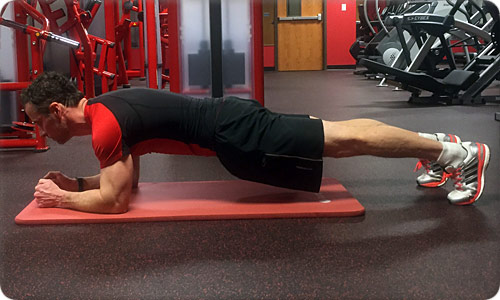 To help get a feel for the proper form for a forearm plank when you're first starting out, you can place a broomstick that runs down the middle of your body from your head to your rear. The broomstick should touch or rest only in three places: your head, between your shoulder blades and your rear.
Concentrate on continually contracting both your abs and your glutes while holding the plank as long as you can without sacrificing your form.
Once you rear begins to drop or elevate above the straight-line position, stop and rest before trying again.
Straight-Arm Plank (High Plank)
The straight-arm plank, or high plank, elevates your body and exerts greater emphasis on your arms and shoulders than the forearm plank, making it ideal for developing shoulder strength and stabilization in addition to core strength.
The high plank looks like the top of a basic push-up. As with the forearm plank, the key to getting maximum results for your effort is focusing on keeping your body in a straight line from your head to your heels the entire time.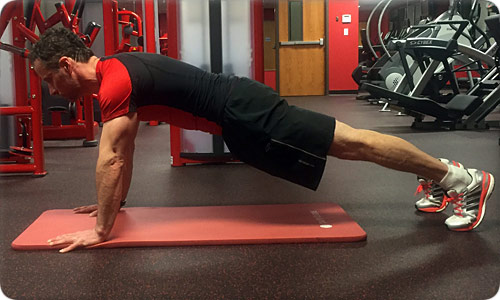 You'll want to hold the position as long as possible, again concentrating on continually contracting your abs and glutes, and making sure that your rear-end doesn't begin to sag or start to raise into a pike position above the straight line of your body.
If the straight-arm plank proves too much of a challenge initially, you can modify this plank by resting your knees on the ground, which places less stress on your lower back and your wrists.
You can also use a yoga mat or rolled-up towel placed under your knees if they start to feel uncomfortable.
Forearm Side Plank
In addition to adding either the forearm plank or the straight-arm plank into your workouts (or ideally both!), you'll want to give equal time to side planks, which can also be performed in forearm side plank or straight-arm side plank variations.
Side planks work the core like standard planks, but they place greater emphasis on the transversus abdominis muscle and the external and internal obliques.
Side planks also target your gluteus medius and gluteus minimus muscles, as well as the hip adductors, which are key muscles in hip strength and stabilization, making side planks a great strengthening exercise for runners and for helping prevent injuries associated with running and jumping.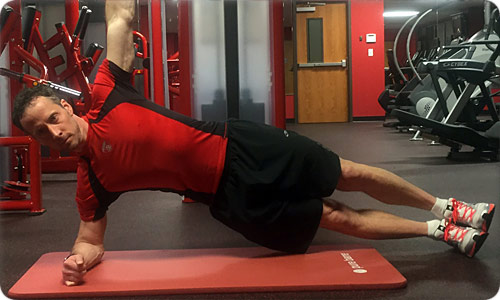 For the forearm side plank, you'll first lie on either your right side or your left side, with your supporting forearm directly under your shoulder, and your legs stacked.
For side planks, you'll want to lift your hips so that your body forms a straight line from your head to your feet, and once again, ensure your abs are engaged the entire time you're in the side plank.
A modification to make the side plank easier is to instead place your top leg in front of the bottom leg, which will provide more balance. You can also bend your knees and rest them on the ground if you need additional support.
Your opposite arm can rest on top your body or you can extend it vertically into the air as you progress with your side planks.
Another progression involves raising the leg stacked on top by 5 – 8 inches or more. You can do this at the same time you extend your top arm into the air, which will really test your balance and work your stabilization muscles.
Straight-Arm Side Plank or Elevated Side Plank
The straight-arm side plank elevates your body higher than the forearm side plank, with only your supporting hand and foot touching the ground.
Your supporting arm will need to be kept straight, and the angle of elevation for your body will obviously be greater than for the forearm side plank.
As a result, the straight-arm side plank, or elevated side plank, can be difficult if you have any shoulder stability issues or weaknesses.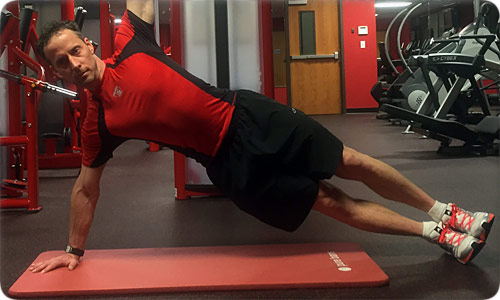 If balance is a challenge in the elevated side plank position, or if you feel your shoulder is at risk on either side of performing the plank, focus first on the forearm side plank and gaining time and strength with this plank before progressing to the elevated side plank or more advanced progressions of this plank.
Challenge Yourself with Planks!
How long can you hold a plank? Test yourself initially and record the results, and then challenge yourself by adding a little more time to your planks each week.
Who knows, before long you might even be able to give George Hood, holder of the men's record for a forearm plank at five hours and fifteen minutes(!), or 16-year old Gabi Ury, holder of the women's record for a forearm plank at one hour and twenty minutes(!), a run for their money!
And make sure to let us know about your plank progress in our comments section and share your max times for either the forearm, straight-arm or side plank!
And once you've mastered these four basic plank positions, step up your plank game with six SUPER plank exercises!