There's a "hidden" muscle group you've likely never heard of… And it's probably making you look like you have at least 5% – 7% higher body fat than you actually have. 
It tends to create a lower belly bulge, love handles that don't belong there, and can actually lead to low back pain when left untreated.
When these muscles are "released," you'll feel enormously better, almost as if blood flow has returned to a vital area, and you'll perform EVERY activity in your life with less pain and discomfort.
Unlocking this "hidden survival muscle group" in your body has been shown to increase your energy levels, immune system, sexual function, strength and athletic performance.
Interestingly enough, though, when not released this "hidden" survival group of muscles can lead to sadness, depression, anxiety, and lack of will-power. 
Can you guess what this "hidden" muscle group is? Abs? Nope.  Glutes? No!  Hip flexors? BINGO!
If you don't take care of these hidden muscles, it could contribute to:
    + Nagging Joint Pain
    + Bad Posture
    + Trouble Sleeping
    + Sluggishness
    + High Anxiety
    + Digestive Problems
    + Weakened Immune System
    + Circulatory Issues
    + Loss of Sexual Performance
    + Lack of Explosiveness in the Gym
[pro_ad_display_adzone id="8825″]
The Kneeling Hip Stretch is also known as the Samson Stretch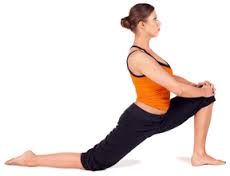 Kneel on your left knee with your right foot out in front. If kneeling is painful on your knee, then place some extra padding under your knee.
Make sure your right heel is out in front of your right knee and your back foot is in line with your thigh.
Square up your hips. Place hands on hips.
Don't rotate your pelvis (hips).
Press the big-toe joint of the back foot into the ground.
Push the back knee and the heel of the front foot into the ground. This activates the lateral hip stabilizers, which help the hip stabilize its position to help the Psoas do its thing.
Your friend and coach,
Shaun