How You Can Burn NINE Times More Body Fat Than
Aerobic/Endurance Exercise…
I'm sure you've probably heard all the buzz about MRT training and the famous "after burn".
If not, today's video will give you the quick the low down.
If you've ever used a heart rate monitor, metabolic tester, or target zone training to lose weight – you've been seriously misled.
If fact, you can actually burn more fat in just 12 to 20 minutes than a FULL hour of chugging away on the treadmill or some other cardio gadget – IF you understand today's metabolic trick.
Believe it or not, you can burn fat for TWO full days using this weird MRT trick.
Study after study (and real world results) backs this baby up.
For example, my friend Joel cites this shocking study in his brand new 24/7 fat loss download:
Tremblay A, Simoneau JA, Bouchard C.
Impact of exercise intensity on body fatness and skeletal muscle metabolism.
Metabolism. 1994 Jul;43(7):814-8
This research group compared 20 weeks of endurance training vs. 15 weeks of high intensity interval training (aka – metabolic bursting).
While the aerobic/endurance (slow boring exercise) group actually managed to burn more total calories during exercise, the higher intensity group lost NINE TIMES more body fat.
NINE TIMES.
Nine times more fat loss in half the time?  YUP.
The clear choice for fat loss comes down to one word – INTENSITY.
And it all boils down to something called EPOC, which I explain in today's short video.
In case you missed my last blog post, you'll get all the details on how you can apply this technique on page 9 of Joel & Craig's new 24/7 Fat Loss Report.
Just click the link below, download the report for *free* and you can use this trick every other day to automatically increase your metabolism around the clock.
Well over 50,000 people have already downloaded this free report in the last 48 hours. It's like the energizer bunny…it just keep going and going and going. 🙂
Obviously this is worth checking out. After all – it's *free*.
Just click the link below and download it now (while it's still available).
Expires Today ==> 24/7 Fat Loss Report – Learn How to Burn Fat Round the Clock <==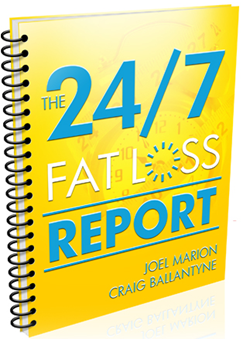 Enjoy the new material,
Shaun