Low Intensity Cardio
You'll probably notice that most people "in the know" working in the health and fitness industry are beating up on low intensity cardio quite a bit these days…
…So I wanted to quickly reveal the other side of the coin so you can see the big picture.
The reason traditional low intensity cardio has gotten such a bad wrap is the same reason many legit fitness tips do…
ABUSE.
People overdo it or approach low intensity cardio the wrong way, which can create many negative consequences and even STOP fat burning.
But when done properly, low intensity cardio can result in many positive adaptations to keep your metabolism healthy and burning fat.
However, you can't just jump on the treadmill or cardio machine and start pounding away.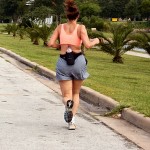 You'll send your body all the wrong signals and messages.
In fact, you could actually program your metabolism to burn nothing but food, calories, and sugars while completely ignoring fat.
But when you strategically combine low intensity cardio or walking with faster paced weight training or bodyweight circuits, like Craig's newly updated Turbulence Training 2.0, you'll have the perfect one-two punch to release stubborn fat…
…And burn it off.
Additionally, if you perform small amounts of low intensity cardio at the three times below, you'll enhance the benefits of your higher intensity sessions WITHOUT stopping fat-loss or damaging your metabolism.
PAY CLOSE ATTENTION:
First, I recommend using the low intensity level cardio, by itself,  just one time per week when you have extra time.
You can walk briskly or perform one longer duration aerobic based cardio workout for 30 to 45 minutes.
No more. No less.
Don't get into the "more is better" mindset with traditional cardio.
So anymore than this is not necessary if you're using higher intensity exercise the right way on the other days of the week.
Second, you can perform a short bout of low intensity exercise directly AFTER any type of high intensity weights or bodyweight training.
Basically, glycogen (energy inside your muscles and liver) will be very depleted after this type of exercise, so it's a great time to access fat as fuel by using a shorter aerobic based steady state workout.
This is something "old-school" bodybuilders have done for decades to get ripped and stage ready.
The third, and sneakiest time to do "slow-go" low intensity cardio is directly after any type of high intensity interval or bursting type of workout.
Believe it or not, as long as you don't overdo it, this strategy can help you get rid of stubborn belly fat by burning off residual free fatty acids that are actively released into the bloodstream during higher intensity exercise sessions.
But you have to use a specific sequence of higher intensity exercise FIRST if you really want to access and burn off all your nasty body fat and look great.
The secret is called EPOC (excess post-exercise oxygen consumption) and without it your body will just "hold on" to your stubborn fat.
EPOC is the scientific term for the fat burning boost you get AFTER you finish exercising and can set your metabolism on fire for up to 40 hours.
You may have heard this referred to as the "afterburn" effect and you get it from putting "turbulence" on your muscles.
But only certain types of exercise, such as Craig Ballantyne's trademarked short, burst workout sessions, allow you to benefit from EPOC.
I've personally worked very closely with Craig while he created this new cutting edge system.
His workouts FORCE your body to burn away nasty belly fat during the workout AND long after you've stopped.
And science proves it works.
Researchers at East Tennessee State University compared Turbulence Training-style workouts against long, slow and boring low intensity cardio.
After 8 weeks of training, they found that the TT-style workout burned 200% more fat than the long, slow boring cardio. (King, J.W. East Tennessee State University, 2001.)
So by following this type of protocol, you'll give your body no choice…
…It MUST burn fat. There is no other option.
This 40-hour fat burning boost is the reason why you'll lose belly fat faster than ever.
Each workout gives you more than three times the calorie burning and fat loss results of even the toughest cardio workout.
And it only takes three thirty minute sessions per week.
To learn more about Craig's trademarked short, burst workout system that will set your workout on fire, he's written a special message just for you.
He lays out exactly what you need to do in order to get the results you want – and deserve – in just 90 minutes per week.
Combine low intensity cardio with Craig's new system for faster fat burning
Keep going strong,
Shaun