Want to get maximum muscle growth and fat loss results from your workouts in much less time than typical workouts take?
In this GL12 exercise video, Shaun and the Get Lean in 12 team reveal how to lift your way lean in a quick but powerful workout progression. Shaun also covers key mistakes to avoid as well as tips and recommendations to get the best possible results from your workouts.
Hey everybody, welcome to Dumbbell Workouts for Rapid Fat Loss.
Get ready to learn how to lift your way lean, and in much less time than an ordinary workout would take.
In today's video we're going to introduce you to your very first Rep-Range Lactic Acid Workout with Superset Finishers.
In this short video, we're going to cover dumbbell exercises for the chest.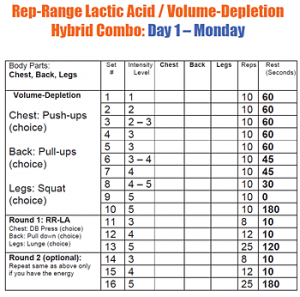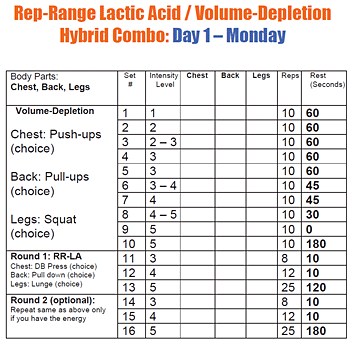 Make sure you have your workout log sheet in front of you for this first workout. (click on the image to the right to download the workout log sheet in PDF format).
Why We're Using Rep-Range Lactic Acid Workout Sets
Keep in mind that the entire theory behind these rep-range lactic acid (RRLA) workout sets is that we're going to work your muscle fibers through a variety of rep ranges to increase your muscle quality and the look and definition of your muscles.
By doing both lower repetition sets and higher repetition sets in the same workout, what we end up doing is stimulating both slow-twitch muscle fibers and fast-twitch muscle fibers.
Your slow-twitch muscle fibers can lift heavier weights, which will also work more of your anaerobic metabolism.
When we go to the higher rep ranges, what we're doing is working the muscle fibers that generate more ATP and burn more calories.
By varying the reps and weights, the whole idea is to stimulate lactic acid — this is the burn you feel in your muscle tissue when working hard.
Lactate is a precursor to growth hormone, so by training a variety of rep ranges, we're going to stimulate a massive amount of growth hormones.
So not only are you going to improve your muscle quality and get more of that Hollywood look with your muscle tissue, you're going to burn a lot more fat just by working out with dumbbells and bodyweight exercises.
OK, let's jump right into your first RRLA workout.
Exercise 1: Dumbbell Chest Press
We'll start with the first exercise, 8 reps of a dumbbell chest press.
You're going to rest just ten seconds before immediately moving to a set of 12 reps.
After another ten-second rest period, you're going to wrap up the round with 25 reps.
Proper Form to Avoid Injury: For the dumbbell chest press, you'll want to keep your elbows directly under the weights and bring your elbows down to only a 90 degree angle when lowering the dumbbells, as going beyond 90 degrees can place unnecessary stress on your shoulders.
Tips: Make sure to exhale on the way up and inhale on the way down. Also ensure you're spending considerably more time during the downward portion of the press than on the upward part (for a count of 4 or 5 vs. 1 or 2 for the upward movement).
Remember, you'll rest for just ten seconds, which really only gives you enough time to switch out the weight of the dumbbells if needed.
For the 25 reps, this is where it's really going to start to burn. So if you need to pause 4 or 5 seconds before resuming, that's OK.
If you choose a weight that's too heavy, you can quickly switch out to a lighter set, and if you choose one that's too light, you can simply start taking longer on each rep to really get the maximum burn.
Exercise 2: Pushups
Once you've finished all three rep ranges, you're going to want to rest for two minutes before moving on to the next set of chest exercises, which in this case, are pushups.
You can start with 8 reps of decline push-ups (where your feet are elevated higher than the rest of the body).
Rest ten seconds and then perform 12 reps of regular pushups.
After ten more seconds of rest, finish with 25 reps of pushups, which can be performed on your knees to decrease the resistance, if needed.
Proper Form to Avoid Injury: Whether performed as a regular pushup or with your knees on the ground, always ensure your body remains in a straight line from your heels (or knees) through your butt, shoulders and head, and that your hands are directly under your shoulders in a straight line, forming a 90 degree angle with the ground.
You can also prevent shoulder injuries or take some stress off your shoulders if you already have issues by keeping your elbows tight against your body during the entire range of the pushup.
Exercise 3: The Dumbbell Fly
After another two-minute rest, the last round will be a dumbbell fly.
The whole idea of the dumbbell fly is that you're going to want to imagine you're hugging a tree each rep.
Proper Form to Avoid Injury: Turn your weights sideways and come down with a nice bend in your arms. On the way up envision hugging a tree.
As with the other exercises, ensure you exhale on the way up and inhale on the way down, and take at least twice as long coming down as your do exploding up on each rep.
You'll also notice that you pick up your tempo as you progress through the round, so that you spend more time on each rep when performing the 8-rep exercises and much less time on each rep when working through the 25-rep exercises.
Keep working hard and smart,
Shaun