Leg Exercises That Make Them Look Bigger?
There is a huge mistake called "time under tension" that many women (and even men) make when trying to develop or tone a weak body part.
For example, most folks think that in order to "tone up" a particular body part or muscle group it needs to be worked harder and more frequently.
But if you're not careful these exercises can actually make your legs, waist, and even your belly look "thicker."
A perfect example of this is the stomach area or abs.
People think doing more and more core or ab exercises is going to help them "tone up" or flatten their belly.
Truth be told, they're just building and developing more muscle in that particular area which means, over time, this could make their belly protrude outward or "stick out" even
more because they haven't burned off the fat that's covering that area.
Hopefully, if you're on my newsletter list, you know by now that "abs are made in the kitchen."
In other words, focus your energy on food and exercises that burn fat. So take all your ab exercise energy and invest your time into things like high intensity intervals or even metabolic weight training circuits.
Then, AFTER you start burning off the "goo" you can start to focus more in developing individual body parts.
Karen and I constantly see examples of this at our local health club.
There is one girl in particular who has very thick legs. She's not overweight, but you can tell by her routine (leg exercises) that she's desperately trying to "tone" her legs or make them leaner.
We've witnessed her use the following 3 leg exercises day after day, week after week —
over and over and over again.
 
Leg Exercises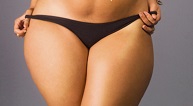 But she doesn't look ANY different.
That's because she's going all about it the WRONG way and using something called, "time under tension."
In other words, all three of the exercises above are building up her leg muscles and potentially making them bigger rather than leaner…which mean they'll just get  "thicker" and stick out MORE.
This girl needs to STOP doing all 3 of these leg exercises and replace that effort with high intensity cardio and free weights (and get her nutrition in-line).
You'd think after a few years of using this approach with ZERO results that she would try something different.
B.T.W. — THAT'S the definition of insanity.
Doing the same thing over and over and over again – expecting a different result.
NOT. GONNA. HAPPEN.
I told my wife Karen it's driving me NUTS because of my desire to help her, but I don't want to offend her. Or maybe she WANTS big legs? Probably NOT 🙂
Anyway…after you've leaned up and you're getting closer to your target goal, you can add these types of leg exercises back into your plan to "refine" weak or underdeveloped body
parts…
But don't bother wasting your time with leg exercises like this until AFTER you've gotten some serious results.
Deal?
Cool.
Now that you understand how to avoid "time under tension," the next move is to make sure you're using the RIGHT nutrition approach along with it.
My wife Karen and I have found that using this ONE Day Diet is, by far, one of the easiest nutrition plans to adhere to for the long haul.
Best of all, it's 100% FREE right here at this link:
==> The "easiest" nutrition plan on the planet?? Yup! <———— Click Here
Enjoy the *FREE* plan!
Shaun
Please share or "like" us!