Today I'm going to discuss something that's pretty controversial in our industry, and that is spot reduction.
If you talk to a fitness professional or an exercise guru, they're typically going to tell you it's impossible to spot reduce a trouble spot without a dangerous and expensive surgery procedure.
However, this may not necessarily be the case. Here's how to remove trouble spot fat in three simple steps that are scientifically documented.
I've also posted the published research on my blog, so if you click the link around this video or refer to the end of this article to get the download for this particular protocol, you'll see that research and how it confirms everything I'm about ready to say.
Step 1: Heat Up Your Trouble Spots
So the first step is you need to heat up your trouble spots.
There's two published studies that show when you first create blood flow in a trouble spot and then you exercise or keep your heart rate elevated afterwards, you'll lose more fat from an area that you actually worked or created blood flow to.
See here's the problem with stubborn fat. If you reach down right now and you feel your belly fat or maybe your glute fat or your hips fat, you'll probably notice it's cooler in temperature than other areas of your body. This is because it lacks blood flow.
So the first thing that you need to do to target trouble spot fat is create blood flow to that strategic area.
If you want to burn off jiggly fat on the back of your arms for example, then you want to go ahead and do a tricep workout to stimulate blood flow in that area.
This is step one. You want to heat up your trouble spots and create blood flow in the areas of your body that typically have lack of blood flow, which is why it's almost impossible to lose fat from those areas.
Step 2: Release Fat-Burning Hormones and Break Apart Stubborn Fat Cells

The second step is to release fat-burning hormones or break apart stubborn fat cells.
Now, interval training is very trendy. However, it doesn't create the stimuli necessary to release the fat-burning hormones that will actually break apart stubborn fat cells and release them into your bloodstream so they can be burned off.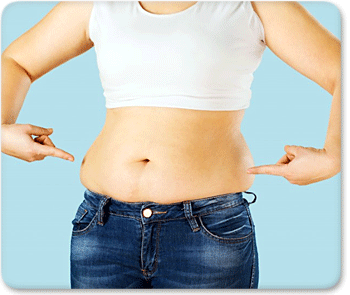 So the key is instead of doing interval training, do something called metabolic bursting.
Metabolic bursting is a short, hard burst of exercise, shorter in duration than a typical interval, and done harder in effort based on your current condition.
So typically, the best protocol to use is the Tabata protocol, which is a 20-second intense exercise burst followed by a 10-second rest.[pro_ad_display_adzone id="8825″]
You can pick any type of cardio exercise you want to do this. You'll want to do this protocol for about eight to 10 times, and what this will do is it will release hormones called catecholamines.
Catecholamines are released in response to your body's sympathetic nervous system.
So when you perform these short, hard 20-second bursts with 10-second rest and you keep repeating that eight to 10 times, your body's fight or flight response kicks up, releasing these fat-burning hormones.
These are the same exact hormones that release stubborn fat cells into the bloodstream, so they can then be incinerated and burned off.
Step 3: Steady-State Cardio to STOP Fat Defense

Now step three is a crucial component.
If you're not careful and you fail to stop fat defense, or what we call in the science world, re-esterification, then these stubborn fat cells that you just worked so hard to release can actually re-esterify or restore into another area of your body.
It's weird and wacky, but your body is designed to survive, and this is simply a survival mechanism.
We can avoid this though by simply doing one thing right after finishing the first two steps.
All you have to do at this point to stop fat defense is old school steady state cardio.
So by waking or doing some type of steady-state (low intensity) cardiovascular exercise for 15 to 30 minutes after steps one and two to burn off the free fatty acids that are floating around in your bloodstream targeting your trouble spots, this will prevent your body from re-storing stubborn fat cells.
To ensure you have everything you need to follow all 3 steps together correctly, I've put together a free gift for you below.
Simply click the image below for a free full workout sheet (in PDF format) that shows you exactly how to do this.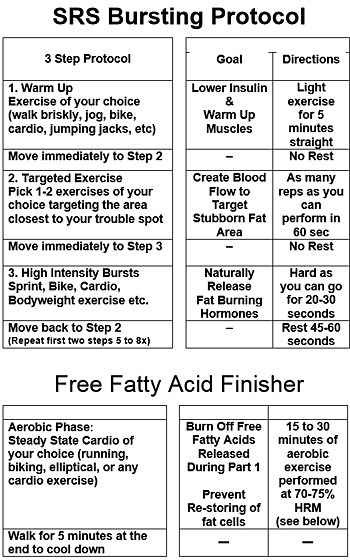 The only drawback to this approach is that it uses up a lot of our most precious commodity—time.
Fortunately, there is an approach that's specifically designed for the "hormonal condition" of people over 40 years old and it only takes 12 minutes per day right when you wake up… or before going to bed.
Over the last five years I've used this 12 minute protocol to help thousands of people (106,000 to be exact) in their 40s, 50s, and 60s (even the most frustrated men and women) lose stubborn fat.  
Not to mention how it's helped transform our bodies and lives.
If you're over 35 years old and have ever struggled losing stubborn fat, just click the link below and discover how you can "re-awaken" your fat burning hormones and melt up to 1 inch per day of belly fat in only 12 minutes:
Use This 12 Minute Metabolic Secret to
Melt 1 Inch of Belly Fat Per Day… Today
We're GIVING It Away 100% FREE!


So if you're in your 30s, 40s, 50s or 60s, simply click the button above and you'll get a free copy of this PDF that will show you how you can potentially burn as much belly fat in 12 short minutes as you could in a full hour of traditional exercise.
It's not easy. It will require some effort, but it is very simple and it's very time efficient.
So thanks for watching this video and keep going strong.
Shaun
References:
(Eur J Appl Physiol. 2003 Jan;[masked]):480-4.)
(Skoluda, N., Dettenborn, L., et al. Elevated Hair Cortisol Concentrations in Endurance Athletes. Psychoneuroendocrinology. September 2011.)
(Sonneville, K.R., et al. (2008) International Journal of Obesity. 32, S19-S27.)
(Cakir-Atabek, H., Demir, S., Pinarbassili, R., Bunduz, N. Effects of Different Resistance Training Intensity on Indices of Oxidative Stress. Journal of Strength and Conditioning Research. September 2010. 24(9), 2491-2498.)
2009 study in the Journal Clinical Science
J Clin Endocrinol Metab. 1992 Jul;75(1):157-62. Effect of low and high intensity exercise on circulating growth hormone in men. authors: Felsing NE1, Brasel JA, Cooper DM.
C. Bass, "Forget the Fat-Burn Zone: High Intensity Aerobics Amazingly Effective," Clarence and Carol Bass, www.cbass.com, 1997.
J. Smith and L. McNaughton, "The Effects of Intensity of Exercise and Excess Post-Exercise Oxygen Consumption and Energy Expenditure in Moderately Trained Men and Women," Eur. J. Appl. Physiol. 67 (1993) : 420-425.
I. Tabata, et al., "Effects of Moderate-Intensity Endurance and High-Intensity Intermittent Training on Anaerobic Capacity and VO2max," Med. Sci. Sports Exerc. 28.10 (1996) : 1327-1330.
I. Tabata, et al., "Metabolic Profile of High-Intensity Intermittent Exercises," Med. Sci. Sports Exerc. 29.3 (1997): 390-395.
2011 study conducted by the American College of Sport Medicine.