In this GL12 exercise video and with the help of the Get Lean in 12 team, I reveal how to lift your way lean and strong in a quick but powerful workout progression. I also cover key mistakes to avoid as well as tips and recommendations to get the best possible results from your workouts.
Get ready to learn how to lift your way lean and strong, and in much less time than an ordinary workout would take.
In today's video we're going to progress into a Rep-Range Lactic Acid (RRLA) Workout with Superset Finishers.
Hey everybody! Welcome back.
OK, so you will hopefully have completed the first two videos with the rep-range lactic acid workout for your chest and then the rep-range lactic acid workout for your back, which means your chest and your back are going to be pretty pumped and worn out at this point in time.
Now we're going to finish the workout and really stimulate that last bit of lactic acid and get your metabolism elevated for the entire day by doing something that we call Superset Finishers.
A super set is just using two exercises back to back. And in this case, obviously, we just torched our chest and back, so we want to finish these two muscle groups.
The Chest and Back Superset
So we're going to superset a pushup with a modified dumbbell row, and I have Ryan here as an example of how to perform the superset.
So Ryan's going to go ahead and he's going to complete 15 reps of pushups.
He's then going to move directly to a dumbbell row with zero rest. So go ahead, Ryan.
Tip #1: Exhale up, inhale down. You guys know by now, after watching the first couple of videos, about maintaining a nice straight line all the way from the shoulders to the ankles to strengthen your core while also protecting yourself from injury.
Good job, Ryan. Good. So not only is he cranking out his chest, he's working his core at the same exact time.
We did the rep-range lactic acid workout for the chest earlier, so his chest is already worn out pretty good, so this is just finishing it.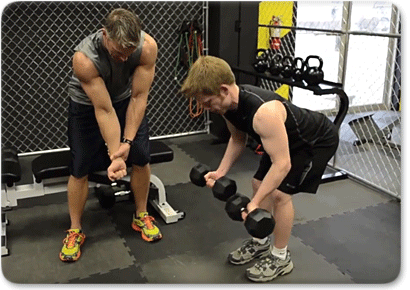 That's why we calling them Superset Finishers. Now he's going to do an underhand dumbbell row.
Tip #2: Again, you don't want to get into that trap of curling your wrists. Keep your wrists straight to ensure the focus remains on your back muscles.
Tip #3: Focus on driving the elbow to the ceiling, squeezing those shoulder blades at the top.
He's going to knock out 15 reps here.
Again, his back is already pumped from doing the rep-range lactic acid workout, so this is simply finishing it.
It's going to burn. That's why you see him turning as red as his hair. And exhale, Ryan. Keep going! Good job, bro!
See that nice little arch in his back? Excellent, Ryan. Good job. Boom.
Now, he's going to turn around, he's going to rest 45 seconds, and he's going to repeat that same exact cycle again, but he's going to shoot for 12 reps or more, because he's going to be fatigued at this point.
Then you go ahead and just repeat that, and that will finish up your chest and your back workout for day one in the Rep-Range Lactic Acid with Superset Finishers exercises.
Now we're going to finalize this workout. If you have the desire to develop your calves, make sure to check out our next video that covers how to finish this RRLA workout by taxing and toning your calves.
Keep working hard and smart,
Shaun