In 2014, over 40 million people bought the wearable fitness tracking device (such as the Fitbit or Garmin) to measure fitness.
It has been determined that 10,000 steps per day will give you a basic level of fitness.  But before you exclude other forms of exercise thinking that this is all you need to do, hold on.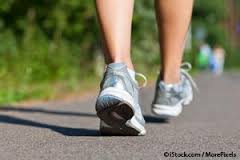 While 10,000 steps is a great start to optimal health, is it for everyone?  Since your body needs movement just as it needs water daily, these wearable devices motivate even the most sedentary to try to reach the daily goal of 10,000 steps (or 5 miles). Why is this a goal? Because the average person only walks about 3000 steps per day.1
Daily walking reduces the risk of stroke in men over 60 years old.2 It has also shown that walking around for 2 minutes out of every hour can increase your lifespan by 33% compared to those who do not walk around 2 minutes out of every hour.3
Did you know that sitting 8 hours per day has been shown to increase your rate of Diabetes Type 2.4
Walking will only make you fit if you are starting out with an "out of shape" body.  So if you' re out of shape start walking those 10,000 steps every day. As you increase stamina and endurance then add other exercises like swimming, Hiits, yoga, and an absolute must —  Strength training.
Most people think they can sit at work all day and come home at night, sit some more (dinner then TV),  and then as long as they get their 30-minute workout in the morning they falsely believe that that is enough to combat the negative effects of not moving all day long.
[pro_ad_display_adzone id="8825″]
For many years, exercise was promoted as the answer to this sedentary lifestyle. But while exercise, like short bursts of high-intensity activity, is important to great health, research shows it can't nullify the effects of too much sitting.
In fact, chronic sitting has a mortality rate similar to smoking. The simplest way to avoid these negative health effects is to strive to sit less – ideally for less than three hours a day.
If you can't afford the fancy wearable wrist device, opt for a pedometer for a fraction of the cost.
The great thing about walking is that you can do it every day. And you do not need recovery time like you would with strength training.
I leave you with this thought:
Your body was designed to move….a lot.
So let's all get out there and start walking!
Shaun
1 NHS The 10,000 Steps Challenge
2Stroke November 14, 2013 [Epub ahead of print]
3 Clinical Journal of the American Society of Nephrology April 30, 2015
4 Ann Intern Med. 2015;162(2):123-132