New FREE Report Uncovers Exercise Tricks To Accelerate Fat Loss & Release More Hormones
The last time I read the updated research, it said that 60% of people who exercise are still overweight. That's sad.
Something is obviously BROKEN here.
This is one of the main reasons I decided to do a series on weight training and/or resistance training. I've always been a real stickler about weights and resistance training because so many people miss the boat when it comes to monitoring and applying proper intensity levels.
This is one of my biggest pet peeves…
People who go to the gym and meander around acting like it's social hour doing 3 sets of 10 to 15 reps of this and that – with no real plan. Or even worse yet, a personal trainer doing the same exact thing with a client!
I see it ALL the time.
What a waste of freakin' time (and money).
Just another reason I'm sharing this stuff. To help all those people who are missing the boat. If you're investing your precious time and / or hard earned money, why not make the most of it?
Reality: Most people have what it takes, but they lack focus – so they never push hard enough to produce a result when they resistance train.
When you learn how to apply REAL intensity to your resistance training you'll activate your metabolic triggers to unleash fat burning hormones and stimulate more muscle fibers while burning through a lot more calories during and several hours after your workout.
THIS type of intensity is what will make you look different (or should I say "better"). THIS is what will make your muscles firm, toned, and strong. THIS is what will help you turn heads. Got it?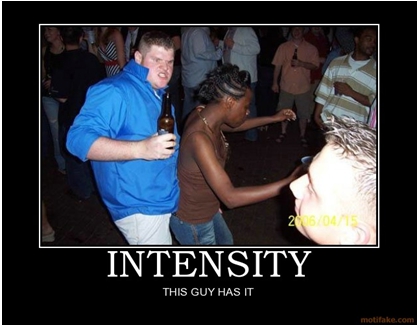 Intensity. This guy has it, but unfortunately not the right kind. 🙂
So my advice is:
Learn how to monitor your intensity levels on EVERY set.
I know this sounds a little anal, but it becomes second nature after a little practice.
Do yourself a favor the next time you workout. Make sure you use the following Intensity Stacker tricks I reveal in today's video:
Progressive Rest Reduction (1 minute and 29 seconds into the vid)
Forced Reps (2 minutes and 14 seconds into the vid)
Negatives and Partials (3 minutes and 9 seconds into the vid)
Up and Down the mountain (5 minutes and 11 seconds into the vid)
What will happen when you try these Intensity Stackers?
You'll automatically get TWICE the muscle stimulation (and way more of a calorie burn).
You'll instantly produce a LOT more natural growth hormone because Intensity Stackers are specifically designed to produce more lactate, or lactic acid, which = more GH (and endorphins) released.
You'll be able to dramatically cut down your workout time because you'll fit way more volume (reps and sets) into the same amount of time.
You'll sweat your living arss off and just plain FEEL a whole lot better physically and mentally.
Sweat is a great thing…
It's just a sign that your fat is crying.

Ha

!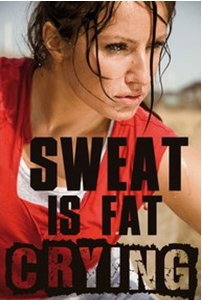 Today's knowledge bomb should definitely get you excited (or should I say "pumped"…hehe) because you'll have several new tricks to try next time you workout.
BTW – I highly recommend you try to learn something new everyday. It's one of the secrets of the journey. Whether it's fat loss, health, or any area of life; knowledge IS power WHEN it's applied properly.
That's why I put together this brand new report for you to download. And since you're cool enough to spend time on my blog, you can download it for FREE right now. NO email required.
All I ask for in return is for you to hit "like" button and pass this along to anybody you know who exercises but still struggles with their weight.
Free Report ==> 3 Reasons Your Exercise Plan is BROKEN (and how you can FIX it) <== No email required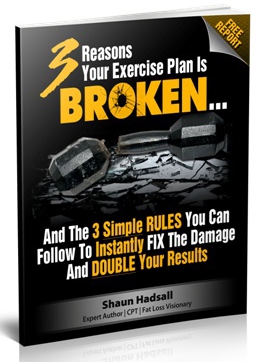 FREE gift for all my readers (that's YOU!)
==> 3 Reasons Your Exercise Plan is BROKEN (and how you can FIX it) <== No email required
Your intensity coach,
Shaun