I'll never forget the day I learned about today's 4 minute exercise trick.
I had been using old-school boring cardio five or six days of the week for a few years straight, but was still carrying a lot of belly fat.
Even with strict nutrition I still couldn't get my love handles or the fat around my waist to shrink past a certain point.
I wasn't really "fat"…but I sure wasn't happy with the way I looked when I took off my shirt either.
Then I came across an article by Bill Phillips (the creator of the now famous Body-for-LIFE™ physique transformation contest) in an issue of his Muscle Media magazine.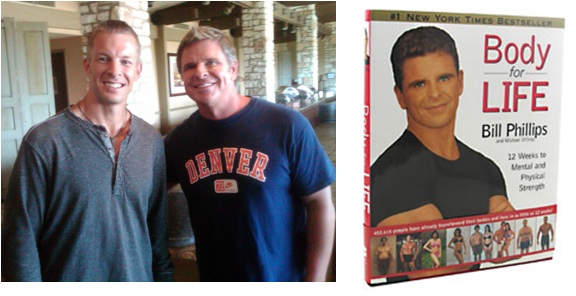 (Man, I really miss that mag. It was light years ahead of its time.)
Bill cited a few studies that showed how certain type of HIIT (high intensity interval training) could increase your body's ability to access fat as fuel over 300% faster than normal exercise or cardio.
Then he proceeded to elaborate on how you could get more fat loss results from one 4 to 12 minute session than you could in a full hour of traditional cardio.
NOW he had my attention.
In fact, the very next morning I gave his sample interval workout a shot. I sweated more bullets during that 12 minute session than 45 minutes of traditional cardio.
And I've NEVER looked back.
Believe it or not this was way back in 1998 well before the mainstream had a clue about this type of approach.
And since that time science has come leaps and bounds.
In fact, my good friend Craig Ballantyne (aka – the Fitness Godfather) passed along this brand new research that was done at Queen's University. They tested today's 4 minute exercise trick against long cardio.
(Reference: Appl Physiol Nutr Metab. 2012 Sep 20.
•    22 college-aged women performed 4 workouts per week for four weeks. They divided them into three groups.
•    Group A did 30 minutes of treadmill running at 85% max heart rate
•    Group B did 8 rounds of 20 seconds of a single exercise (burpees,
jumping jacks, mountain climbers, or squat thrusts) with 10
seconds of rest between rounds.
•    Group C did nothing (they were the non-training control group).
Results:
•    Both training groups increased their aerobic fitness levels by the SAME amount
(about 7-8%). That's right, the short bodyweight workouts (of 4 minutes) worked
just as well as 30 minutes of cardio.
Shocking?
Not if you understand exercise science and the human metabolism.
•    BUT…only Group B, the higher intensity style training, also increased muscular endurance in common exercises like chest presses, leg extensions, sit-ups, and push-ups.
Also, the exercise used by Group B also resulted in greater overall workout enjoyment.
The scientists concluded that "extremely low volume bodyweight or high intensity interval-style training" will boost cardiovascular fitness just as well as cardio while giving you BETTER improvements in muscle endurance.
And it only takes 4 minutes.
But remember this is different than traditional interval training that you've probably read about on-line or in fitness magazines.
Traditional intervals typically last 45 seconds all the way up to 2 or 3 minutes in length. Bursting intervals are shorter in duration (usually 20 to 30 seconds max) and harder in effort.
This type of anaerobic (without oxygen) energy system is called the creatine phosphate system. It fuels maximum and near-maximum efforts of these short-bursting types of intervals.
Only tiny amounts of creatine phosphate are stored in the muscles, so this energy system cannot support efforts lasting much longer than 20 seconds.
These bursting types of workouts and exercises burn more calories per minute than all workouts of lesser intensity.
They also provide the greatest "after burn". In fact, they have the potential to increase your metabolic rate for 38 to 48 hours after doing just one 12 to 20 minute session.
Pretty amazing. (Again, the scientific term for this effect is called EPOC which stands for Excess Post-Exercise Oxygen Consumption)
(HIIT stands for High Intensity Interval Training)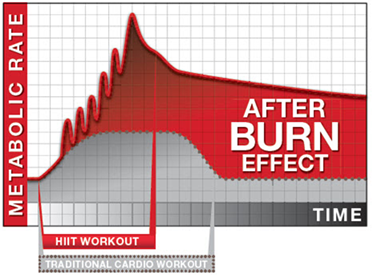 Traditional aerobic type of exercise simply doesn't provide these benefits.
How This 4 Minute Trick Helps You CONTROL
Your Fat-Burning Hormones
It all starts with hormones called catecholamines.
Catecholamines are "fight-or-flight" hormones released by the adrenal glands in response to stress like high intensity bursting. They are part of the sympathetic nervous system (SNS) and they force the release of free fatty acids into the bloodstream.
Catecholamines eventually convert to dopamine, to norepinephrine, and eventually to epinephrine, which ultimately forces the release of these free fatty acids.
In other words, these hormones help break apart stubborn body fat.
This is just one of the many reasons why strategic intervals and bursts are so much more effective for a creating a healthy metabolism and burning off stubborn hard-to-get-rid-of fat than other forms of traditional exercise.
Here's how to set it up properly and get the most benefits.
The Setup
1. Use a 4-5 minute warm up
•    The warm up is important for a few reasons. First, it lowers and stabilizes insulin. This is vital because it's nearly impossible to burn fat in the presence of insulin.
•    Additionally, it warms up the muscles, which will prevent injury, and begin the process of creating more blood flow preparing the way for releasing fatty acids.
4 minute bursting protocol
•    The 20/10 – bursting/rest protocol will stimulate the release of hormones and help break apart stubborn fat.
•    This facilitates the releasing of Free Fatty Acids from stubborn fat and into the blood stream.
•    It will also help enhance the after-burn, activate Glut 4 (glucose transporter), and provide a huge metabolic shock to help you burn off more stubborn fat and calories.
Here's an example exercise graph of the most common 4 minute method known as the Tabata protocol: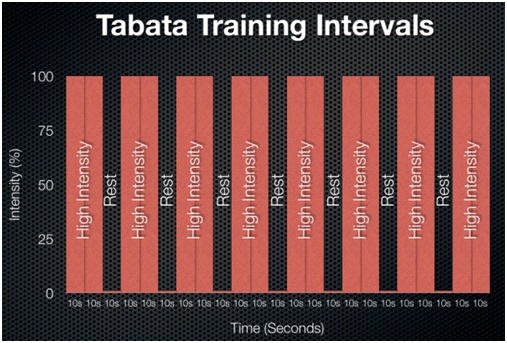 Just make sure you cool down as well. It's important to let the heart rate come back down to normal levels before stopping.
And please don't try to be an over-achiever by doing this type of workout everyday.
If you do it will just backfire on you – I promise.
Remember, exercise is just the "stimuli".
The results occur while you rest and nourish.
In other words, nutrition and recovery is crucial in order for this protocol to work properly on your body.
You can get away with being more aggressive for short periods of focused efforts, but don't overdo it with these workouts.
You'll just burn out and possibly even get injured.
Recovery is critical.
This type of exercise is powerful stuff, but remember to take the "smart" approach.
Many of you may have already been introduced to this protocol in the past, but you may have forgotten about it or let it slip through the cracks. If so, get this back into your schedule a few times a week.
It will keep your hormones happy and allow you to target more stubborn belly fat as a fuel source.
Just keep in mind that it's not a replacement for traditional workouts, but it's a great protocol to fall back on when you're in a hurry.
If you like this post, make sure you let me know in the comments section below and hit like to the left and share it with your friends and family.
Have an awesome day and keep going strong,
Shaun
P.S. If you're a carb lover, make sure you check out this 6 minute video:
==> NEVER eat another carbohydrate until you learn how to use this trick