High Intensity Exercise:
Welcome back!
Now it's time to finalize the FINAL missing piece that "triggers" the most fat-loss when you resistance train or lift weights.
You see, most folks think that lifting weights is just for building muscle or "toning up".
NOT SO.
And today I'm going to reveal several legitimate methods you can use to make sure you're burning the MOST fat with weights and resistance training.
And guess what?
NOBODY ever talks about this stuff. I know – weird. And yet it's sooooo darn effective to maintain leanness and be a long term fat-burner.
The ONE "Sneaky" Trick that "Triggers" the MOST Fat-Burning when You Lift Weights (Intensity Stackers)
Reality: Most people have what it takes, but never push hard enough to produce a result when they resistance train.
In other words, they have NO clue what REAL high intensity exercise is.
Intensity is the ONE "sneaky" trick that will trigger the MOST fat-loss when you lift or resistance train.
I've always been a real stickler about this one because so many people miss the boat when it comes to monitoring and applying proper high intensity exercise levels.
This is one of my biggest pet peeves…
People who go to the gym and meander around acting like it's social hour doing 3 sets of 10 to 15 reps of this and that with no real plan. Or worse yet, a personal trainer doing the same exact thing with a client.
I see this type of stuff ALL the time.
What a waste of freakin' time (and money).
Just another reason I put together these VIP Articles for you…to help all those people who are missing the boat.
I would estimate based on my observations over the years that at least 75% of all exercisers have no clue what REAL high intensity exercise is.
When you learn how to apply proper intensity levels to your resistance training, you'll activate your fat burning hormones and stimulate more muscle fibers to instantly increase the amount of fat and calories you burn from every workout.
– THIS is what will make you look different (or should I say "better").
– THIS is what will make your muscles firm, toned, and strong.
– THIS is what will help you turn heads at the pool and the beach this summer.
But first, you have to learn how to monitor your intensity levels on every set. I know this may sound a little anal, but it becomes second nature after a little practice.
Here's a high intensity exercise scale that I use personally and with all my private clients for resistance training.
Intensity Scale: 1- 5
1 = Warm up (doesn't really burn or get heart rate up)
2 = Moderately Difficult (starts to burn a little)
3 = Hard (moderate burn – should start to breath heavy)
4 = Very Hard (burns like crazy – feels like cardio)
5 = Maximum Difficulty (makes you want to cry –
should break a major sweat and/or elevate heart rate
in a BIG way)
I recommend you print this off, write it down, or commit it to memory.
When performing your resistance-training workouts, you should be progressively moving towards a 4 or 5 high intensity exercise level at end of training every body part.
This is how you'll hit the sweet spot during your workouts and get the most bang for your buck. If you learn how to find 4's and 5's during every session, week-by-week, you'll see incredible things happen to your body.
Don't forget…;
WHEN intensity is high enough, you'll double the fat-burning effect of weight training – AND cut down on your training time dramatically.
The Fat-Melting Hormonal Impact of PROPERLY Monitored Intensity
Here's why you should always monitor intensity.
When you push yourself out of your comfort zone using proper high intensity exercise, it kicks up our body's SNS (sympathetic nervous system), which is our body's "fight or flight" response.
This will have a profound hormonal effect on your body's ability to target stubborn fat.
1. It will help you keep blood glucose and insulin levels low, which = more fat and calories burned.
2. It will ramp up the natural production of Growth Hormone (GH) and brain chemicals (BC) like adrenaline and catecholamines.
3. It will force your body to release more free fatty acids (FFA) so you can burn off more of the "hard-to-get-rid-of" fat.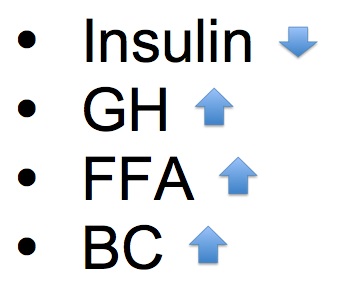 Now that you have a snap shot of why intensity is so gosh darn important, let's give you some action steps you can use to apply this magic on your body.
3 Simple Intensity Stackers you can use to trigger the MOST fat loss when lifting weights:
Here are a few intensity tips that will give you twice the muscle stimulation in HALF the time.
I call them Intensity Stackers.
•    Intensity Stacker 1: Progressive Rest Reduction
Reduce your rest period time between sets as you progress through your workouts.
A lot of people really mess this one up. Let's say you're supposed to be resting 60 seconds between sets, but you see Sally and you say "hi" to her because you want to be friendly.
Now your rest period just went from 1 minute to 5 minutes. This means you've just lost ALL momentum in your workout.
Remember, if you're supposed to rest 1 minute and you don't pay attention and accidentally rest 2 minutes, you're toast.
Why? You just rested twice as long as you're supposed to, which equals HALF the results.
Here's how you can fix it. First, ignore Sally in a nice way and let her know you're on a tight schedule and you'll catch up later.
Next, monitor your rest periods. For example, if you're performing 12 sets total a for chosen body part, you could break it down like this to stack the intensity.
– Sets 1-4     Rest 60 to 120 seconds between sets
– Sets 5-8     Rest 30 to 60 seconds between sets
– Sets 9-12     Rest 0 to 30 seconds between sets
•    Intensity Stacker 2: "Forced Reps"
Here's how it works. As soon as you reach your target reps, pause for a couple seconds and crank out 2 to 3 more. Get in the habit of using this technique. Even if your form suffers a little bit, the tradeoff is worth it.
THIS is where results occur. More muscle fibers are stimulated, more hormones are released, more calories and fat are burned, and more weight is lost.
You can also maintain better form on forced reps if you have a spotter. This is sometimes called "cheat reps" as well.
Just make sure that when you sacrifice a little bit of form on forced (or cheat) reps you're not putting yourself in harms way. In other words, be careful.
•    Intensity Stacker 3: Negatives
BONUS TIP: Before I share this intensity stacker with you, I want you to know that "lifting" weights doesn't really produce results.
Lifting AND lowering the weights is what recruits the most muscle fibers to help you build and tone.
In fact, there have been quite a few studies over the years indicating the eccentric (negative) portion of the movement stimulates more muscle fibers than the actual lifting (concentric) portion of the movement.
So remember, if you just lift the weight and don't pay attention to the negative (lowering) portion of the movement, you're only doing HALF the work, which equals half the results.
With a negative intensity stacker we take lowering the weight to a whole new level by greatly exaggerating the process.
This is a technique that's best applied at the end of a set to burn out the muscle group your working and allow you to hit a target intensity level and rep range.
This works best if you've selected a weight that might be too light.
For example, let's say your target reps for a given set is ten and you're shooting for intensity 4 or 5 (from above). But by the time you get a few reps in you realize you can easily get 15 or maybe even more reps. So starting on rep 5 or 6 you would start "lowering" the weight 4 or 5 times "slower" than normal.
This will instantly make the weight feel a LOT heavier, stimulate more muscle fibers and allow you to hit your target reps and intensity level right on the nose – or close to it.
You can also use this method towards the end of your workout to burn out a particular muscle group if you want.
I reveal dozens more fat-burning tricks like this inside my 4CS Body Sculpting Exercise & Training System like Partials and Up and Down the Mountain.
Make sure you give the examples above a try the next time you hit the gym and you'll discover your workouts will immediately go to the next level.
How to know your intensity is high enough to Stimulate Rapid Fat-Loss with weights
Lastly, I wanted to make sure you had a couple key indicators so you can measure and track your intensity properly.
Here's a couple guidelines you can use:
1.    You should be sweating during your weight training or resistance training sessions!
If you're not breaking a sweat that's similar to doing cardio or bursting-intervals by the time you're 15 to 20 minutes into the session, you're not going hard enough. You might not sweat quite as much as bursting-intervals, but it should be pretty dang close.
2.    Your heart rate should progressively get higher and higher as you move through your session.
I find my heart rate reaches the 160s and even gets into the 170s as move towards the end of training any given body part. This is a clear indication I'm hitting my 4 and 5 intensity levels, stimulating the right hormones and producing the desired effect.
If you break a killer sweat, get your muscles slightly sore week after week, and sometimes get a little nauseous when you workout, then you're on the right track.
Just make sure you recognize the difference between good sore and bad sore. If your intensity is high enough, you shouldn't need much more than 5 hours per week of total exercise time.
This time includes bursting and interval workouts as well.
I don't care how long you think you've been in your "target zone" or what your heart rate monitor tells you, sweat is the greatest indicator that you're burning fat and changing your body.
Remember, sweat is just an indicator your body fat is crying. 🙂
So make sure you consistently monitor your high intensity exercise levels.
Push yourself hard enough to make weights or resistance training "feel" like intervals or cardio.
Disclaimer: Make sure you've been cleared by your doctor for intense exercise before you try this stuff and apply these strategies based on your current condition.
CONCLUSION
I'm not telling you ANY of this stuff is going to be "easy" or make it sound like a quick fix or magic bullet. It's not. These techniques DO work…and they work FAST.
But you're going to have to "get off your butt" and USE them.
There's no doubt this approach can be a body transforming experience.
But it will require both physical AND mental effort. Anytime you want to get great results from exercise there are going to be times when it's tough.
You'll soon discover that the trade off of getting out of your comfort zone is well worth it because these training tips will transform you both physically and mentally. It won't require a ton of time, but you can't be a wimp either.
Deal?
What do you have to lose? Really?!?
If you're already spending your precious time exercising 5 or 6 days of the week, why not make the most of it?
And if you're one of those people who's skipping or slacking on resistance training, this VIP article series should wake you up in a big way.
Plus, it basically gives you both a short term and long term solution to make visible changes in your body that can last a lifetime.
Lastly, if you'd like to turn this entire philosophy of "triggering" fat to be your primary energy source EVERY time you lift weights, make sure you check out Jason Klein's Brand New ICRT™ method.
It's specifically designed to help you sculpt a Lean Body in ONLY 15 minutes:
==> Brand New 15 Minute ICRT™ Body Method (Advanced Fat Loss)
I've watched Jason work on this system for over a year now, and he's finally perfected it.
I LOVE sharing this stuff because it truly is the difference maker.
Stay fit and keep growing.
Your friend,
Shaun "intensity stacker" Hadsall
Please share or "like" us