Let's face it – almost all of us have some degree of stress in our lives, whether it's from having to work too much, having too many demands placed on us, being stuck in traffic way too often, unhealthy relationships or habits…the list could go on and on.
The effects of that stress can build up and create an unhealthy discord in your life that can result in health issues, compromised immune systems, depression and other problems.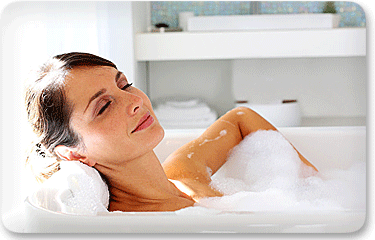 And while activities like exercise and meditation can certainly help reduce stress, you can further purge your body of the effects of stress and toxins by periodically detoxing as well.
I'll touch on three ways to detox that can leave you feeling happier, healthier and more relaxed, whether it's after a long day at work, following a strenuous workout or before bedtime to help ensure a restful period of sleep.
Detox Bath
This one isn't just for the girls – guys you too can reap the benefits of a soothing detox bath.[pro_ad_display_adzone id="8825″]Detox baths are great for decompressing and unwinding from all the stressful situations of the day, and detoxification baths can also soothe sore muscles after a hard workout.
Tip: To get the full effects of a bath detox, first exfoliate to remove dead skin and open your skin's pores. Use warm to hot water – hot enough to further open your skin's pores so you can sweat out toxins, but not too hot that it's uncomfortable.
To help promote the detoxification effect as well as to soothe aches, pains and sore muscles, I recommend adding a cup or two of Epsom salt as well as any combination of baking soda, sea salts, or even apple cider vinegar (which by the way is a great elixir for all sorts of ailments).
Hot Tubs / Jacuzzis
Hot tubs (also known as whirlpools or Jacuzzis) will have you sweating out toxins while also increasing the blood flow to your muscles, making them a great option for post-workout rest and recovery.
As with a detox bath, you'll want to ideally exfoliate first to remove dead skin and helps your skin pores breathe better.
Tip: Take a quick, cool shower after spending time in a hot tub to help rinse off your sweat and any impurities that remain on your skin's surface.
The detox cleansing from hot tubs, baths or saunas may also help you to lose weight through the release of toxins stored in your subcutaneous fat cells (the layer of fat under your skin).
Once these stored toxins have been released, it frees your body from needing to store excess fat, enabling it to melt away in a natural process.
Sauna
Saunas provide many of the same benefits of a hot tub, but without the need to get into water. Like hot tubs, saunas will help you eliminate toxins through your sweat while also increasing blood flow to your muscles.
This makes them an ideal option for recovering after a hard workout. They're also great for loosening your muscles up prior to a workout by spending 5 to 10 minutes warming up your body in a sauna.
The intense sweating created when relaxing in a sauna flushes out many of the toxins the accumulate in your body's subcutaneous fat such as lactic acid, sodium and uric acid.
This detoxification process can help clear out nearly a third of the toxins that your kidneys remove from your bloodstream.
Saunas may help improve your endurance as well. A New Zealand study on distance runners found that the increased blood volume resulting from detoxification bathing and sauna time is the likely reason for a significant enhancement of performance in the runners that detoxed in a sauna.[1]
Just make sure you don't overdo it — limit your sauna or hot tub time to no longer than 30 minutes at a time to avoid potential issues like burns, fainting and dehydration.
Speaking of dehydration, whether your detox involves a sauna, hot tub or warm bath, an important key to remember is to stay well hydrated.
While all your sweating is great for eliminating toxins, it also means you'll need to replenish the lost water content.
So make sure to drink well both before and after any detox activity.
Shaun

References
Scoon GS, Hopkins WG, Mayhew S, Cotter JD. Effect of post-exercise sauna bathing on the endurance performance of competitive male runners. J Sci Med Sport. 2007 Aug;10(4):259-62. Epub 2006 Jul 31.