Use This Dirt Cheap Tool to Sleep Better, Recover Faster, Prevent Injury, and Just Plain "Feel" a Whole Lot Better…
A few years ago I put together a special short report for all my private paying clients that revealed a super simple 5 minute pre-workout trick that can nearly double workout performance in the majority of people who use it.
This technique also has a host of other benefits as well.
Reduced muscle tightness and soreness
Increased range of movement in the joint
Enhanced muscular coordination
Increased blood circulation
Increased energy levels (usually from better circulation)
You'll also sleep better, recover faster, prevent injuries and just plain "feel" a whole lot better using this method.
Since I consider this vitally important stuff, I copied and pasted the private document below in an article format for ya.
I didn't have time to go through and edit it, but it's super short. Make sure you check it out and put it to good use.
In my opinion, EVERYBODY should be using this pre-workout trick if they exercise consistently.
—————————————————————————–
Self-Myofascial Release:
No doctor required!
Ten bucks doesn't buy much nowadays. But if you can afford to spend a measly $10 (which I'm sure after reading this, you'll want to make the investment), take my advice and buy a foam roller.
You could receive a lifetime of relief from the annoying tightness so many exercisers and even sedentary people have to deal with on a daily basis.
Don't worry, this isn't an infomercial. I just want you to pick up a foam roller for self-myofascial release and deep tissue massage because of all the benefits you'll reap.
How does it work?
Self-myofascial release (SMR) on a foam roller is possible thanks to the principle known as autogenic inhibition.
Let me quickly explain.
It starts with something called the Golgi Tendon Organ (GTO), which is a mechanoreceptor found at the muscle-tendon junction, so it's highly sensitive to changes in tension in the muscle.
Hang with me here…this is not complicated.
When tension increases to the point of high risk of injury (i.e. tendon rupture), the GTO stimulates muscle spindles to relax the muscle in question. The GTO isn't only useful in protecting us from injuries, but it also plays a role in other important stretching techniques.
Foam rolling and Self-Myofacial Release can stimulate GTO.
I really didn't understand ANY of this until I put this special report together, but just make sure you know one thing.
You'll feel a WHOLE lot better with whole foam rolling thing.
Essentially, you get many of the benefits of stretching and then some.
What you need to get:
1) 6″ foam roller (I recommend the 3 feet long version)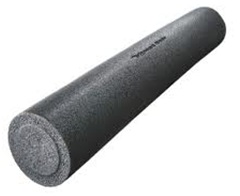 How to Use a Foam Roller for Self-Myofascial Release
Using a foam roller is simple, but working some areas may take a bit of practice.
Start by finding a relatively open area with some floor space. Position your body with the area you want to work on top of the foam roller.
*Your body weight creates the pressure that massages and releases tight spots in the fascia.
You control the pressure by applying more or less body weight on the foam roller and using your hands and feet to offset your weight as needed. It's helpful to try a variety of positions and see what works best for you.
Tips for Using a Foam Roller
Always check with your doctor before using a foam roller for myofascial release.
Position the roller under the soft tissue area you want to release or loosen.
Gently roll your body weight back and forth across the roller while targeting the affected muscle.
Move slowly and work from the center of the body out toward your extremities.
If you find a particularly painful area (trigger point), hold that position until the area softens. This can hurt, but the relief is extraordinary.
Focus on areas that are tight or have reduced range of motion. The most common spots are the glutes, hip flexors, the IT band (outer leg: Tensor Fascia Latae and Iliotibial Band), hamstrings, and quads.

Roll over each area a few times until you feel it relax. Expect some discomfort. It may feel very tender or bruised at first.
Stay on soft tissue and avoid rolling directly over bone or joints.
Focusing on consistency, not marathon sessions. Five to fifteen minutes 4 or 5 days of the week can make a huge difference. Especially if you combine it with post workout stretching.
Drink plenty of water after a session, just as you would after a sports massage.
Do not use a foam roller without your physician's approval if your have any heart or vascular illness or a chronic pain condition.
*End Article*
It's kinda funny, cuz 10 years ago I didn't give a crap about stuff like this.
But now that I'm into my forties and I've dealt with several injuries, I realize the HUGE value of using simple prevention techniques like this.
So make sure you give this a try. It's worth the time and the minimal financial investment. Considering the payback it's a no-brainer.
Speaking of "no-brainers", don't forget that my buddy, Rick Kaselj's brand new "Fix My Shoulder Pain" program is on sale for HALF off to celebrate its new release.
==> SIMPLE methods to permanently fix shoulder pain for ONLY $20
So if you're somebody who has spent a lot of time and money trying to fix a shoulder injury (or discomfort) by going to the doctor, a shoulder specialist, physical therapy, or ART; active release therapy…
There IS a better way.
It just a matter of doing a few corrective exercises that only take a few minutes each day.
And it's LESS than $20.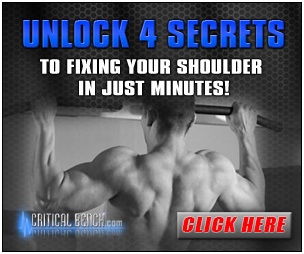 Obviously nowhere NEAR the cost of a doctor visit or some other weird, unproven "alternative" method.