So the question is: Should you do your cardio/weight training in a "fasted" or a "fed" state?
In other words: do you eat or not eat before you work out?
Here is my "Easy Reference" Chart that goes along with the above video:
                EXERCISE?                   FASTED   State                            FED State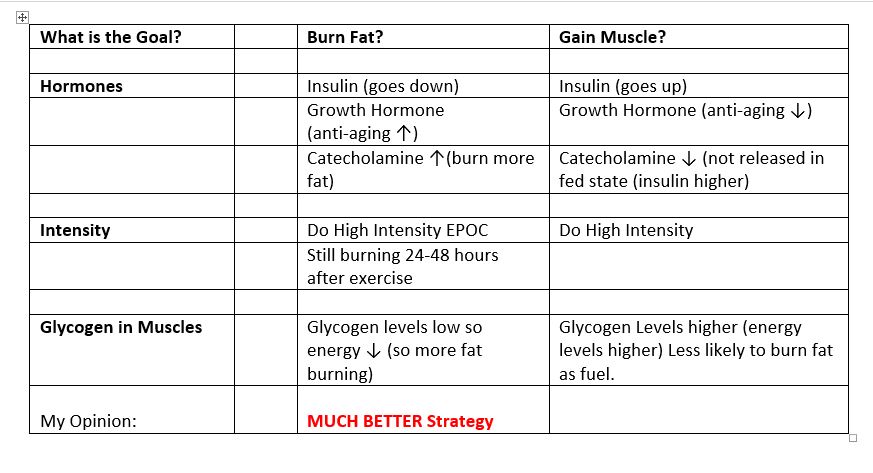 It all depends.
What are your goals? To burn fat or gain muscle?
If your goal is to burn fat you want to be in a "Fasted State" (no food in your stomach).
Why?
Because Insulin levels have gone down from not eating and your GH (fat-burning growth hormones) and catecholamines have shot up (both help burn fat first) and if you add a high intensity workout, you are guaranteeing that you'll be burning calories for 24-48 hours afterward (because of the EPOC effect: Exercise Post Oxygen Consumption).
The DRAWBACK: You'll have less energy (less glucose/glycogen) but that just means that your energy will come from your fat stores.
[pro_ad_display_adzone id="8825″]
Now if your goal is to gain muscle and fat burning is not that big of a deal, then exercise in a "Fed state" (have a light breakfast/meal before working out).

Why?
Because your insulin levels will be higher and your energy will come from glucose/glycogen stores (not fat).
Also, do high intensity workouts in a fed state so you will have the EPOC effect (burn more calories after the workout than during the workout).
The BENEFIT: you'll have higher energy levels in a fed state so you are less likely to burn fat, but you'll last longer.
Now there are some people that can not be in a fasted state before exercise. To get the maximum benefit, then you need to to 10-15 minutes of a warm-up. This helps lower insulin levels and helps burn more fat.
In my opinion: Most of the time exercising in a fasted state is better because of all the extra anti-aging hormones that rejuvenate your body (as well as burning some fat along the way)
Which one are you going to try for your next workout? Leave a comment below to let us know …
Shaun