Want to get maximum muscle growth and fat loss results from your workouts in much less time than typical workouts take?
In this new GL-12 exercise video, I reveal how to lift your way lean and strong in this quick but powerful "superset finishers" workout for your shoulders. I also cover key mistakes to avoid to help you prevent injuries as well as tips and recommendations to get the best possible results from your workout.
Hey everybody, welcome to part five of our new Dumbbell Workouts for Rapid Fat Loss series.
Get ready to learn how to lift your way lean and strong, and in much less time than an ordinary workout would take.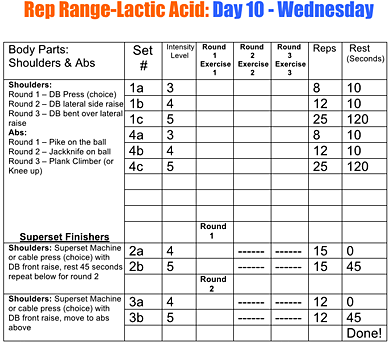 This video is your second Rep-Range Lactic Acid workout for weeks 1 and 2. And in this video, we're going to target your shoulder muscles with a superset finisher workout.
Make sure to print out your workout log sheet and follow along as you perform each of the RRLA exercises.
Exercise 1: Side Lateral Raise (see video for detailed instructions) 

Karen will perform the first exercise, Lateral Raises.
Now there's a couple different ways that you can do lateral raises. And you'll notice in the earlier Rep-Range Lactic Acid video and blog for the shoulders, we didn't show you the actual side lateral raise.
So here we're going to do a side lateral raise.
Keep in mind that both Karen and I have a little bit of a shoulder issue.
But what's unique is that the exercises that hurt her don't hurt me and vice versa.
Exercises that hurt my shoulder don't hurt her, so it just goes to show you the variety of different shoulder injuries or shoulder limitations that each individual may have.
So I caution you using any shoulder exercises.
If you feel pinching, or if you feel any type of pain or discomfort that's not the good pain, not the lactic acid lifting pain, make sure you switch and use an alternative exercise.
Now, as far as side lateral raises go, this is a great segue because there's a couple different ways you can do them.[pro_ad_display_adzone id="8825″]
And if we look at Karen, she shows a great option for a lot of people who have shoulder limitations by keeping bent elbows.
She's keeping her arms at a 90 degree angle and simply lifting her elbows and tipping the weights. Almost like they're teapots or milk jugs that are in her hands. Her arms always stay at a 90 degree angle the entire time.
Now, the other way is what I call the bird or the eagle. With this alternative, you bring your elbows out more and tip them like milk jugs.
This is going to be a little bit more difficult. You're not going to be able to go as heavy as the one where your arm is bent because the range of motion is greater.
Proper Form to Get Max Results: Now again, when you do these lateral raises like this, and you're doing the eagle style and you're bringing them out and tipping them, make sure that you drag your knuckles across the floor as much as possible.
You'll notice that when you do this it takes the forearm out. Keep those knuckles slightly bent up towards the ceiling as you lift the weight.
This is going to take more of that forearm, both the bottom and the top, out of the movement and help isolate the shoulder more.
Remember, it's not about how heavy we can go, it's about muscle tension. That's what's going to give you that fitness model look.
Exercise 2: Dumbbell Row Push (see video for detailed instructions)
After Karen completes a superset of a side lateral raise with no rest for 15 reps, she's going to continue burning up the shoulders with the second superset finisher exercise, the row push.
For this one, we don't want to do an upright row because that can definitely put some stress on the shoulders.
What we're going to be doing instead is we're going to take a little bit wider of a grip. And we're not going to come up quite as much.
I want you to come up to about breast level, and I want you to push out and then resist on the pull.
Now, when we pull, we're going to bring in some rear delt, right? But when we push out and hold, we're working all front and middle delts, so we're literally hitting all areas in the shoulder by doing these supersets. So let's dive in.
Proper Form to Get Max Results: Remember when you're pushing out, pause slightly to fight it, getting that negative. That's what's going to stimulate that front deltoids more.
Perform 15 reps of the row push exercise to complete round one and then rest for about 45 seconds.
You're going to want to do a second round of these two exercises to wrap up the shoulder superset finishers.
Despite being fatigued, make an effort to reach at least 12 reps for each of the two exercises in the second round.
That's it for today. Keep going strong!
Your friend and coach,
Shaun