Cookies that Burn Fat?
Cookies that are "healthy"….AND taste good?
Yup.
Here are the TOP 10 reasons that make these delicious high-protein cookies the #1 flat belly dessert and/or fat-burning snack available anywhere:
1. They taste absolutely amazing.  Try them and see for yourself…you have an entire year to return them for a refund if you don't agree.  Simply put, we did not release these until the taste and texture was perfect.  You will not be disappointed.
Karen and I put them in the microwave for just 10 seconds and they are absolutely deeeelish.
2.  Each large cookie contains 12 grams of high-quality, time-released protein, including the Rolls Royce of all proteins, Micellar Casein.  The proteins are certified antibiotic and hormone free…that's why I recommend BioTrust produces. They only use the best!
3. These cookies contain NO WHEAT and they are GLUTEN FREE. You'd never know it from how incredible they taste, but indeed it's true.
4.  Each cookie also contains 5 – 6g of fiber, including inulin, a special pre-biotic fiber that feeds the healthy bacteria in your gut, promoting optimal health, digestion, and weight loss support.
5. These cookies are 100% All-Natural!  That means no artificial colors, flavors, or sweeteners…period!  Instead, they are sweetened naturally with stevia extract and contain only the finest all-natural and organic ingredients.
==> 100% All-Natural Chocolate Chip BioTrust Protein Cookies
6.  They're brand new flavor, Chewy Chocolate Chip, is fortified with organic coconut butter, adding a healthy dose of fat-fighting, health-promoting medium chain triglycerides to an already incredible nutrition profile.
7.  If you prefer Oatmeal Raisin, they've got those too! Karen and I love both flavors, but we actually prefer Oatmeal Raisin.
However, Joel sent me a box of the Chocolate Chip recently and I told him, ""You guys nailed the flavor on the Chocolate Chip bro. It's excellent!"
8.  These high-protein cookies are also Non-GMO and are free from soy and trans fats in addition to being wheat and gluten-free.
9.  Proof that they taste amazing?  Your kids will eat them, love them, and ask for them.  Yes, they're THAT good.
As you know, kids couldn't care less about how healthy something is…it's ALL about taste for them!  If your kids don't love them, too, then BioTrust will promptly refund you.  We're not lying when we say these things taste absolutely incredible.
Even Joel's 2-year-old daughter Lily (shown below in finger-licking fashion!) can't get enough of these cookies! In fact, I suggest you find a good place to "hide" your cookies because they are a healthy and nutritious snack the entire family will love! Karen and I are always fighting over the last one. Of course, she's usually nice enough to give me half. 🙂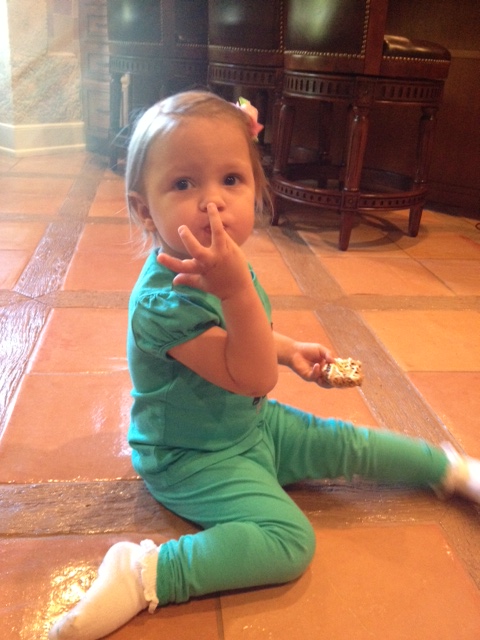 10.  They're ultra-convenient!  For one, there is zero preparation…it's a healthy, fat-burning snack or meal replacement ready to go right out of the box.  Second, each cookie is individually wrapped and completely portable.
Put them in your car, throw them in your purse, keep some in your desk at work…it's delicious, fat-burning goodness at your finger tips whenever and wherever you want it!
To discover just how delicious, healthy, and convenient these fat-burning cookies, available in Frosted Oatmeal Raisin or brand new Chewy Chocolate Chip, just tap the link below.
==> 100% All-Natural Chocolate Chip BioTrust Protein Cookies
Enjoy the tasty new fat-burning treats!
Until tomorrow,
Shaun