Best Exercise Ever?  Take a Guess
Today's exercise is one of my all time favorites.
I've been using it when I wake up in the morning lately because it's so effective and takes very little time. It is actually the best exercise ever!
I've been so busy working ridiculously long hours on my newly updated 4 Cycle Fat Loss system that I'm actually growing a beard right now…lol.
Some folks grow a hockey beard during the playoffs, some grow a beard for hunting season. But not me! I grow a "fitness" beard 🙂
Anyhoo…that's why I'm using this best exercise ever about 4 or 5 days of the week right now.
It only takes about 3 seconds to perform and it works your ENTIRE body…and it burns a TON of calories.
Most people don't realize that too many interval workouts on a weekly basis can block fat-burning because you'll stress out your adrenal glands and release nothing but cortisol.
Although I'm a HUGE fan of interval training, more is NOT better for your fat loss.
In fact, if you abuse high intensity cardio, like intervals, it can be harmful on your metabolism, burn up muscle and hinder your body's ability to recover adequately.
So if all you do is the SAME interval routines or cycle classes week after week, you'll just force your body straight into a plateau.
That's why it's so important to periodically replace traditional high intensity cardio exercises with exercises that fatigue the largest muscles in your body.
It will help you avoid adrenal fatigue AND take your body to the next level.
So instead of putting relentless stress on your adrenals and cardiovascular system with standard cardio exercises all the time, you need to change it up.
Not only will you save time and have more fun…
…You'll never hit a plateau AND you'll change the way you "look" through enhanced muscle stimulation and fat loss.
Ok, already. What is this best exercise ever?!?
==> Click here if you think it's a Mountain Climber
==> Click here if you think it's a Jump Squat
==> Click here if you think it's an advanced Pushup
==> Click here if you have no clue but you're curious

The Best Exercise Ever?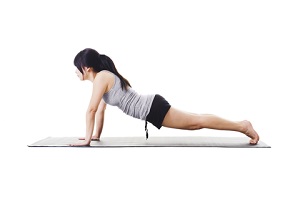 The Burpee, according to the chairman of the Department of Kinesiology at McMaster University in Hamilton, Ontario, says this is the single BEST exercise because it:
"Builds muscles AND it builds endurance."
Believe it or not, the Burpee can literally work 639 muscles at the SAME time in 3 seconds flat.
And there are dozens of variations you can use that I want to share with you today inside this *free* video and article from my great friend, Shawna Kaminski.
This video will show you exactly how Burpees can be used by anyone, including YOU, to up your fitness game and shatter any weight loss plateau.
Now I'm not saying this approach will be "easy."
You know better than that!
But it will save you time and progressively challenge the largest muscles in your body to burn more fat and calories WITHOUT adrenal fatigue or interval burnout.
Plus Shawna gives you all kinds of "modifications" you can use, so no matter what level of fitness you are, you can use this underrated method to accelerate your results.
Enjoy the new approach.
Until tomorrow,
Shaun

Image courtesy:www.dreamstime.com