In today's video I flat out GIVE away my absolute best arm training routine.
This is the secret routine I've used to build a lot of credibility in the arm training department.
I call it "Variable Rep Arm Sequencing".
(you know me and my crazy names 🙂
So anyway, check this out.
Many of you already know that my primary passion is fat-loss, but what most folks don't know is my second fitness passion…
Arm training.
Besides fat loss, this is kinda like my specialty. You'll see the evidence when you look at the crazy pics that are posted below.
This workout split is specifically designed to create definition and add lean muscle to your arms while creating a maximum "peak" in your bicep and defined "horseshoe" in your triceps.
And when you discover the strategic sequence I introduce you to in today's video, you'll see how arm training can also = extra fat-loss.
In these pics you'll see an example of my bicep "peak" on the left and the famous triceps "horse shoe" on the right.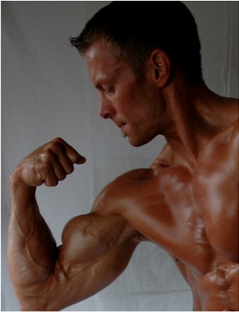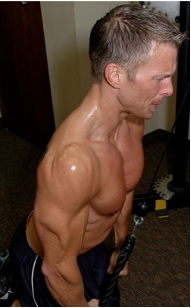 You'll hear these terms mostly in bodybuilding circles.
But remember, no matter how hard you work you biceps or triceps, you'll never see this type of definition unless your body fat gets into the single digits (under 10% for men) or below 20% for women.
I was honestly very reluctant to show these pictures. I just don't want people to think I'm boasting or showing off ya know?
But it also seems necessary so you can have faith that I KNOW what the heck I'm talking about!
So in today's video I explain the following arm training sequence. Make sure you either print out this picture below or jot it down so you can give this cycle a try.
The results are ridiculous. Follow this cycle for about 6 to 8 weeks at a time before taking a break from the frequency and intense schedule for a month or two.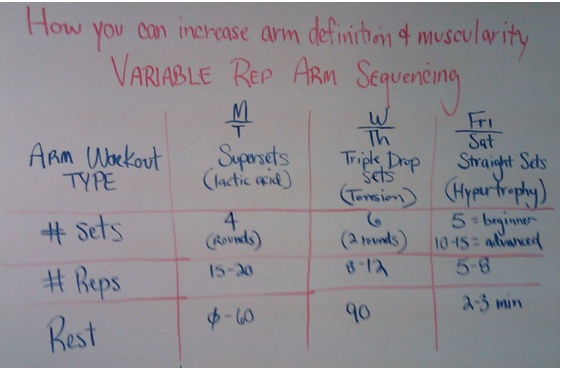 I personally think this is some KILLER info, but in order for it to work properly you need to make sure you're also using effective exercises.
And that's always the #1 question I get when I introduce people to this routine. "What" exercises are best for this type of arm training split?
That's where my buddy Nick Nilsson (The "Mad Scientist" of Exercise) comes in.
There's NOBODY better at creating and demonstrating little known but extremely effective exercises than Nick.
Here's 5 FREE killer examples you can use directly from the man himself:
==> The BEST ARM exercises you've never heard of <== (Five Free Examples)