Discover a very specific and strategic triceps workout for developing and maximizing the size and definition of your triceps.
The triceps muscles make up the vast majority of your upper arms, so if there is one muscle group you're going to want to target if you have a goal to get bigger arms, the triceps are it.
For the guys, this exercise targets the back of the arms to get that unique, well-defined horseshoe shape.
And for the ladies, this triceps exercise can help to firm up the back of the arms, which is a major area where some women struggle. If you find that you have a little extra arm flab there that you would like to get rid of, this triceps exercise combined with a good diet can help you achieve your goal.
Ok, inside this video I want to talk about triceps pushdowns and the mistakes many people make when doing them.
There's a huge mistake that I see a lot of people make when they do triceps pushdowns, so I want to teach you how to do them the right way so you can gain more definition in your triceps and more of that horseshoe-type look in your triceps.
MISTAKE #1: The main mistake I see most people make when they're doing triceps pushdowns is that they move their elbows in and out when they move the weight.
In other words, they tend to let their elbows swing as they push down on the weight and then raise the bar back up.
What this does is bring in the lat muscles, which reduces the intensity on your triceps.
TIP #1: So the key to isolating the triceps muscles is to keep your elbows stiff to your sides and make them the point of rotation, so the elbows won't be moving at all.
TIP #2: A lot of times it also helps to squeeze your butt cheeks (glutes) as well while performing pushdowns to help keep your body from swinging.
MISTAKE #2: The second mistake I see a lot of people making is that they put the weight (bar) in their fingers instead of resting it in the palms of their hands.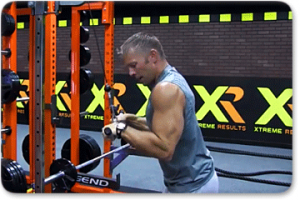 TIP #3: So make sure when you're doing a triceps pushdown to force the bar into the palms of your hands.
What this is going to do is help isolate the triceps muscles significantly more.
TIP #4: Also make sure to keep your wrists engaged and in line with the rest of your arm (don't let your wrists turn up and your knuckles turn up to the ceiling in other words).
This is also going to isolate the triceps and prevent the forearms from helping to bear the intensity of the triceps pushdown exercise.
TIP #5: Finally, always make sure to exhale on the way down and inhale on the way up.
TIP #6: Remember, lifting weights doesn't produce a change in the way you look or results – lifting and lowering weights does.
So it's important to focus as much if not more on the eccentric or negative (lowering) portion of the exercise. This will help stimulate more of the muscle fibers.
Research actually shows there's more muscle stimulation in the eccentric or negative portion of the reps than there is in the lifting portion.
So what this is going to help you stimulate more muscle and truly make a change in the way you look, so always remember this key when weight training.
A general rule of thumb with triceps pushdowns is pushing down to a count of one and then slowly raising back up to a count of four.
Give triceps pushdowns a try and let me know how they work for you in our comments section below!
Your friend and coach,
Shaun