Want to get maximum muscle growth and fat loss results from your workouts in much less time than typical workouts take?
In this GL-12 exercise video, I reveal how to lift your way lean and strong in a quick but powerful workout progression for your back. I also cover key mistakes to avoid to prevent back injuries as well as tips and recommendations to get the best possible results from your workout.
Hey everybody, welcome to part two of our new Dumbbell Workouts for Rapid Fat Loss series.
Get ready to learn how to lift your way lean and strong, and in much less time than an ordinary workout would take.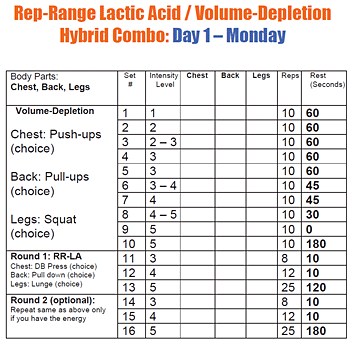 In today's video we're going to introduce you to your second Rep-Range Lactic Acid Workout with Superset Finishers.
In this short video, we're going to cover dumbbell exercises for the back.
Before we get started, if you haven't watched them yet, make sure to check out the first video on chest dumbbell exercises as well as our Introduction to Lactic-Acid Workouts.
Make sure you have your workout log sheet in front of you for this first workout. (Click on the image to the right to download the workout log sheet in PDF format).
OK, let's jump right into your RRLA back workout.
Exercise 1: Dumbbell Row
So I have Karen on board to perform our first exercise, a dumbbell row, for you.
Proper Form to Avoid Injury: Two important things to keep in mind here are to make sure you get your butt low in more of a sitting-down position while also engaging your core the entire time. You also want to keep a slight arch in your lower back.
These two keys are going to help protect your lower back while the dumbbell rows work to make your lower back stronger.
Tip: It's also important that you remember to keep your wrists straight.
As the weight gets heavier on a dumbbell row, a lot of people will tend to turn their wrist and end up bringing their forearms into the movement.
So make sure to keep your wrists straight and just focus on driving the elbow to the ceiling behind you.
When performing the dumbbell rows, you'll want to squeeze your shoulder blades when bringing the dumbbells back.
For tempo, come up fast and then resist as you slowly return to the starting position.
Perform a set of eight reps at a heavier weight.
Keep the tempo for this first set slow and controlled, as you want to make sure to prevent injury while also getting more tension on the muscle.
After the eight reps, rest 10 seconds as you switch to a lighter weight.
Now move immediately to a set of 12 reps. Rest 10 more seconds as you again drop to a lighter weight.
The last set will be the higher rep range of 25 so make sure it's a weight you can make it through the entire set with, while increasing the tempo a little bit
Remember, the goal with this last, higher rep set is to stimulate more lactate which will promote the release of growth hormone.
Intensity is what gets results, so give it your maximum efforts on these workouts. This is what changes the way you look.
Exercise 2: Modified Row for Upper Back
For our second exercise, Ryan is going to be performing a modified dumbbell row, with his elbows out wide.
This moves the focus from your lower back to more of your upper back, and mimics more of a pulldown or a pullup type of motion.
Tip: If you're strong enough, you can switch this movement for a set of pullups.
For the modified row, keep your elbows out and exhale as your arms come up and inhale on the way down.
As with the earlier dumbbell row, remember to keep your wrists straight – don't start curling those wrists.
A visualization tip is to pretend you have a straight bar in your hand and you're just pulling up with it.
Start with the set of eight. Remember your ideal tempo here as well – a little bit quicker on the way up and resist as you slowly lower back down.
Rest ten seconds while dropping to a lighter weight.
Perform 12 more sets before another 10-second rest period.
Finally, finish with your set of 25 lactic acid-pumping reps.
Remember, you can experiment a bit and switch some of the sets for ones with an under grip instead of overhand grip.
Or as mentioned earlier, if you have the strength, you can incorporate some pullups into these sets.
Exercise 3: Dumbbell Pullover
The third and final exercise in the RRLA back workout set is a dumbbell pullover.
This one will really stretch out your back while working both the back and also your core.
I recommend a considerably heavier weight here than for the earlier exercises.
But make sure it's one you can lift without the risk of it falling, as your face will be exposed in this exercise and caution is certainly advised.
To start, you're going to want to get your shoulder blades on the bench, and then you want to pop up and keep nice and straight so that you hold your core nice and tight.
And then you're going to reach over with your hands forming a diamond around the dumbbell, ensuring it doesn't fall in your face.
Proper Form to Avoid Injury: While keeping your core tight and elevated while also supporting your neck, keep your arms stiff and bring them back behind your head while inhaling.
And then just exhale up while bringing the weight back to your starting position.
You should feel a deep stretch, down in your lat area, as the dumbbell lowers down.
To demonstrate this exercise with control, I'll start with a 70-pound weight for the first eight reps.
After a ten-second rest period, I'll move on to a set of 12 reps with a 45-pound weight.
For my final set, I'm going to shorten up my range of motion a little bit, just to get more of that lactic acid burn out.
And while for the earlier sets I was focused more on the tension, now my focus is on that lactic acid burn.
Tip: You may notice your butt dropping a little bit as you fatigue. Fight to force it back up again to work your core at the same exact time.
One more note – as with any exercise, if something tweaks or hurts at all when you do it, make sure that you modify.
It should be a good hurt, never a painful one.
Keep working hard and smart,
Shaun