Want to get maximum muscle growth and fat loss results from your workouts in much less time than typical workouts take?
In this new GL-12 exercise video, I reveal how to lift your way lean and strong in a quick but powerful workout progression for all four of your abdominal muscle groups (abs).

Today we're going to dive into the ab finishers part of your second workout in phase two of my Metabolic Resistance Training program, so this is going to be the final part of your Wednesday workout for weeks 3 and 4.
Remember, when it comes to your abs, we want to use a range of exercises that target the upper abs, the lower abs, the obliques, and then the overall core and the transverse abdominis.[pro_ad_display_adzone id="8825″]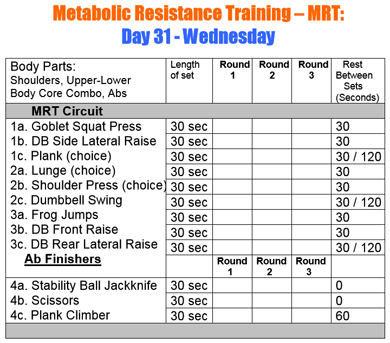 So today the Get Lean in 12 team and I are going to cover three kick-ass ab exercises, focusing on how to get maximum results in a short period of time while also providing tips for preventing injury.
One important key to remember for these exercises is that you'll want to shorten your range of motion in most cases to avoid engaging the hips — you want as much of the exertion as possible in your abdominal muscles instead of your hip flexors.
These MRT ab exercises are set up in a triple-set fashion. That means it's three ab and core exercises done back to back (to back). And they're done for 30 seconds at a time with 30 seconds rest in between.
The reason for this is simple — new research has revealed working your abs in this fashion instead of doing old-school crunches and sit-ups not only prevents potential back and spine injuries, it also helps you burn more fat because these exercises elevate your heart rate more and they continually activate more of your core.
Now the last thing I want you to remember is that with these Metabolic Resistance Training workouts you're going to get a 38- to 48-hour afterburn, so your metabolism will still be burning calories and fat at an elevated rate for up to two days after you complete these short but intense workouts!
As always, work hard and smart, and please let me know what you think of the Metabolic Resistance Training workout and how well they're working for you.
Keep going strong.
Your friend and coach,
Shaun