Looking for the best way to exercise? One that provides the most value in the shortest period of time?
How about one that helps you build strength and flexibility without stressful impact to your joints, and all while burning plenty of calories?
And when it comes to being pressed for time,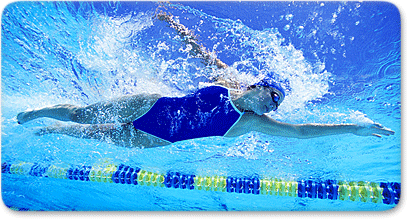 how about a workout that combines strength training and cardio in one?
In water, which is close to 800 times denser than air, your muscles are under constant resistance, enabling you to strength train without stressing your joints.
And your cardiovascular system gets a great workout at the same time from the sheer intensity required to keep moving through water.
The bottom line is that if you're looking for a total body workout that you can scale to a wide variety of intensities, you need to dive right in…to the swimming pool, that is.
Here are five key situations and reasons why swimming provides an amazingly beneficial workout:
1. Calorie Burn + Build Strength
If you're looking for a great way to burn calories while toning up your muscles, look no further than lap swimming.
Swimming laps with the common freestyle stroke will burn the equivalent number of calories as running at a 10 minute a mile pace.
And it does so while developing your core, glutes, hamstrings, calves, shoulders, biceps, triceps and other muscles in your body, several of which are frequently under-targeted in other workouts.
In short, it's hard to find a workout that hits more key muscle groups while simultaneously burning calories to help with weight loss and improving your cardiovascular endurance than swimming.
2. Injury Prevention
Because of its low-impact nature, swimming places far less stress on your joints.
This makes it possible with swimming to exercise at higher intensities without putting yourself at a high degree of risk when it comes to sustaining injuries.
It also strengthens your entire body and increases flexibility across key areas that are often missed in other workouts.[pro_ad_display_adzone id="8825″]
Another benefit from swimming is that it targets and strengthens the deep stabilizing muscles in your core and your lower back, which can help prevent one of the most common ailments we face today, lower back pain.
3. Injury Rehabilitation
Let's face it, injuries are a fact of life, especially as we get older.
While common injuries like back pain, knee pain, ankle pain and hip pain can sideline athletes and the rest of us from our favorite sports and hobbies, swimming tends to be one of the first activities you can tackle while in the rehabilitation phase of your injury recovery.
So even though an injury might limit or prevent you from other forms of exercise, fortunately swimming serves as one of the best ways to rehabilitate from an injury while keeping the rest of your muscles active and toned during the recovery process.
And even when an injury to an area like your shoulder prevents you from swimming laps, you can switch to another form of water exercise like water jogging or water aerobics as part of recovery process.
4. Active Recovery
Runners, weight lifters and cross-training athletes all need recovery days after several days of intense exercise.
But a recovery day shouldn't mean a sit-on-the-couch-all-day rest period.
A far better option for a recovery day is to jump in the pool, dial back the intensity and get an active yet relaxing lap swim workout in.
Active recovery swims can loosen up the muscles without putting additional stress on the muscles or joints which, once again, can help keep you strong while also preventing the potential for injury (notice a theme here?).
5. Anti-Aging
Want to turn back the clock while feeling refreshed and energized?
Most forms of regular exercise provide improved health and quality of life, but swimming may be one of the absolute best options for staying healthy and looking (and feeling) younger.
According to research[1] from Joel Stager, Professor of Kinesiology at Indiana University, Bloomington, those who swim regularly show signs of being as much as 20 years younger than their biological counterparts.
The study found that regular and fairly intensive swimming substantially delayed the decline of key age markers like muscle mass, ideal body weight, blood pressure, blood chemistry and pulmonary function.
And not only does swimming help those in their 30s, 40s and 50s, swimming's anti-aging benefits extend all the way through your 70th birthday, according to the research study.
And a separate study from the University of South Carolina[2] showed that those who swim regularly have a 50 percent lower death rate than runners, walkers or those who don't exercise regularly at all.
With all these benefits, what more incentive do you need to get in a pool and start swimming, water jogging or doing water aerobics?
How about the fact that summer is right around the corner, and a fantastic way to get that beach body is to start your journey in the water!
Enjoy the water and swim hard,
Shaun
References:
http://newsinfo.iu.edu/news/page/normal/4030.html
http://www.sph.sc.edu/news/blair3.htm