Let's face it, we all dread leg day.
I know personally, I do not like leg training, but it is a necessary evil because it burns more fat and calories by working some of the largest muscle groups in the body.
As a result, leg day will stimulate the release of a lot more hormones like testosterone and growth hormone that will help the rest of our body grow.
So since we tend to dread leg day, I thought I'd show you a short and efficient way to knock out leg day in less than twelve minutes a week while still getting all those fat-burning and muscle-building benefits.
Leg Day Workout in 12 Minutes a Week
Here's the best way to tackle leg day. Using just a set of dumbbells, always keep your reps somewhere in the range of 6 to 12 if your goal is fat loss and building muscle.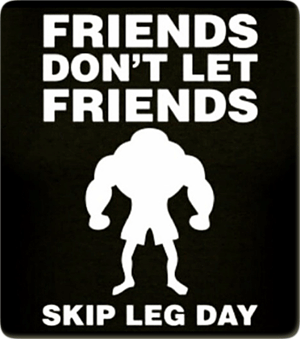 The first thing to do is pick two exercises that will target your quadriceps (muscles on front side of leg) and hamstrings (muscles on back side of leg).
Exercise 1: Dumbbell Squats
The first exercise I'll demonstrate is a set of dumbbell squats.
When performing squats, inhale while squatting all the way down with the dumbbells in each hand and your arms straight against your body. Exhale on the way back up.
Here are the two big keys to focus on to get the most out of your squats while also preventing potential injury.
Tip #1. Simple: Keep your chin up.
Tip #2. Stay on your heels, and not your toes. So as you come down and get your butt about parallel to the floor, exhale as you come up, forcing your body up through the heels.
This is what will protect your knees and also isolate the quads to get maximum stimulation from the quad muscles.
After performing six to twelve heavy reps of the dumbbell squats, with no rest at all immediately proceed to performing a dumbbell lunge or reverse lunge.
Exercise 2: Dumbbell Lunges

If performing a forward lunge with dumbbells, step forward while inhaling and then exhale on the way up.
As with the dumbbell squats, you're going to want to use a weight that will have your legs burning and on feeling as though on fire as you reach the six to twelve rep range.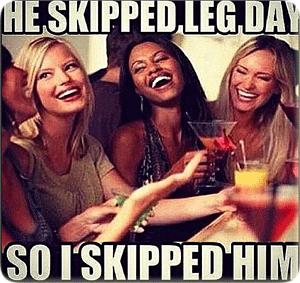 Here are the big keys to focus on for your lunges to protect against injury while maximizing stimulation for your legs.
Tip #1. When you're lunging, make sure your forward knee never extends past your toes as your lower into the lunge as well as when you push back up.
You're going to want to strive for a 90-degree angle with your quad parallel to the ground and your lower leg perpendicular to it.
An angle greater than 90 degrees will start to push your knee past your toes, putting you at risk of injury.
Tip #2. Again, keep your chin up, and exhale as you push back up from your lunge.
Tip #3. When returning to the standing position, make sure to drive from the front heel to focus the intensity in your upper legs.
Now you're going to "superset" these exercises back and forth. So go directly from a set of dumbbell squats to a set of dumbbell lunges with no rest in between the sets.
After performing six to twelve reps of each exercise, rest one full minute and then repeat the two sets again.
Continue this for a full twelve minutes. When you're done, you'll find you've hit somewhere in the range of 80 to 100 total reps.
You're going to have knocked out a tremendous amount of work on your legs in a short period of time, and you're still going to get all the fat-burning and muscle-building benefits of training your legs, but in only twelve minutes a week!
Your friend and coach,
Shaun