This 8 minute abs workout with several secret ab exercise tips and tricks will shred your abs while helping you get that toned six pack much faster than you thought possible.
Ok, you've worked hard, you've kept your diet in check, and you've burned the fat.
But do you have something to show for it? That's where most people miss the boat.
That's because a lot of times ab training is incomplete.
The are actually four ab areas that you have to target. (And really there's even a fifth "hidden" area.)
A big mistake people make is focusing almost entirely on the upper abs by doing exercises like crunches and sit-ups.
But you actually have to address the lower abs as well as the obliques on each side of your stomach.
And then there is an inner ab called the transversus abdominis, which has to be exercised with a "secret" exercise called the vacuum, which we'll be covering in the second part of this series.
To fully train your abs, what I want to do is put together a circuit of four key ab exercises for you, performed back to back to back (to back).
This circuit will hit all four major ab sections, so that once you've burned off the fat and lowered your overall body fat enough to see your abs, you'll have something really toned and sculpted to show for it.
Round 1: Beginner Ab Exercise Circuit
We'll be performing four exercises for thirty seconds each in this routine, for a total of 2 minutes, followed by 1 minute of rest.
We'll then repeat the circuit for 2 minutes, rest 1 more minute, and finish with a third 2-minute circuit, for a total of eight minutes.
Ab Exercise #1: CRUNCHES
We'll start with a crunch, but a word of warning here. If not performed correctly, the repetitive, loaded spinal flexion of crunches and sit-ups can place excessive loads on the lower back and is one of the leading causes of herniated discs.
And if your form falters, crunches can end up working your hip flexors more than your abs.
As a result, you'll need to keep the following tips in mind when performing these crunches.
TIP #1: When you're getting yourself in the crunch position, lying on your back with your feet raised and both your hips and knees bent at ninety-degree angles, you're going to want to point your toes together.
By pointing your toes together, this will prevent your body from shaking and moving all over the place as you do the crunches.
TIP #2: Now, the next key to focus on is pretending you have a tennis ball placed under your chin, which has the effect of focusing all the energy and tension in your upper abs, rather than your hip flexors.
Again, this is essential for eliminating the hips and isolating the upper abs.
TIP #3: Instead of placing your hands behind your head or clasping your hands together behind your head, make your fists into balls and place them on each side of your head. This will prevent you from pulling on your head as you perform the crunch, which can stress your neck as well as bring other muscles into the exercise and take the focus away from the abs.
Now, remember the imaginary tennis ball under your chin as you exhale up as you bring the knees and elbows together, and inhale as you come back down each repetition.
Perform these crunches for thirty seconds while keeping the above keys and tips in mind. Also make sure to maintain a steady pace – one that's not too fast or too slow.
As an alternative to crunches, you can replace them with an exercise like standing medicine ball slams or hanging knee raises for this part of the routine if you feel more comfortable with them or you feel they hit your core better.
Ab Exercise #2: REVERSE CRUNCHES
Immediately after performing the first set of ab exercises for thirty seconds, we're going to go straight into the second exercise: Reverse Crunch Hip-ups.
TIP: To properly perform these, make sure your hands are resting flat on the ground underneath your body (your rear in this case), and also keep your shoulder blades and head touching the ground or mat at all times.
You'll start with your legs fully extended and about six inches off the ground.
Now, bend and bring your knees up to your body. As they get close to your body, push your heels to the ceiling as your raise your hips off the ground for the hip-up part of the exercise.
This is a killer ab exercise that only requires about 10 to 15 reps before you feel your lower abs lighting on fire!
Again, perform this exercise for thirty seconds before immediately starting the third exercise, which targets the obliques.
Ab Exercise #3: BICYCLE TWISTS
The third exercise is the good ol' fashioned bicycle twist.
For this one, remember and apply all the keys and tips you used in the crunches as you perform these bicycle twists.
Start in the crunch position, but instead of bringing both of your elbows and knees together, you're going to twist as you bring one arm to the opposite knee.
The other leg should extend as you bring the two together. Once the knee and elbow touch, you're going to twist and bring the opposite knee and elbow together.
TIP: Always remember that imaginary tennis ball tucked under your chin, as this will help you isolate the obliques when performing bicycle twists.
Cross over like this back and forth for thirty seconds straight. You'll feel your obliques light right up!
Ab Exercise #4: THE PLANK
The first three exercises specifically targeted the upper abs, lower abs and obliques.
Now the fourth exercise will target the core, so basically it will be hitting all three of these areas together.
For this one we're going to hit the standard forearm plank, which we illustrate in more detail along with three other fundamental plank positions here.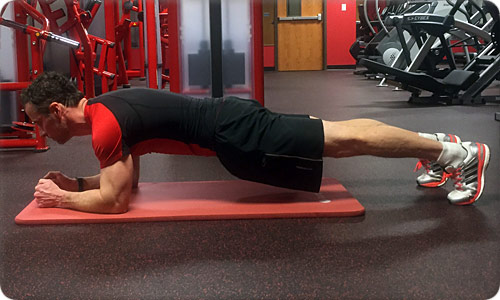 TIP #1: It sometimes helps to lock the hands together (interlocking your fingers). Try it both ways to see which is more comfortable for you while at the same time gauging which way puts more tension directly on your core.
TIP #2: You want to make sure your butt is neither too high in the air or too low (sagging) — ensure it stays in a straight line with the rest of your body, particularly your head and shoulders.
A lot of people, as they get tired, will lose this proper form and either raise their butt or let it sag to cheat and take the tension off the core, which of course, defeats the purpose of the exercise.
Instead, keep your core engaged and as tight as possible while maintaining the straight line from your head to your heels.
Completing the Circuit
Now, we've performed four exercises back to back for thirty seconds each, so we've completed the circuit one full time.
We'll rest for 1 minute before repeating the cycle of four exercises again. Then we'll rest again before performing all four exercises one more time.
In summary, we'll be hitting the abs for 2 straight minutes, resting 1 minute, hitting them again for 2 minutes, resting 1 minute, and then finishing with 2 more minutes of the ab exercise circuit.
You'll see and feel very quickly how we're hitting every area of the stomach and core in just eight minutes.
Start with these four basic core exercises and add them to your regular routine.
Once your core has gotten used to this workout, we'll add in some more advanced exercises next time.
Shaun