Want to get maximum muscle growth and fat loss results from your workouts in much less time than typical workouts take?
In this GL-12 exercise video, I reveal how to lift your way lean and strong in a quick but powerful workout progression for your calf muscles — the gastrocnemius and soleus muscles of your lower legs. I also cover key mistakes to avoid to prevent injuries as well as tips and recommendations to get the best possible results from your workout.
Hey everybody, welcome to part four of our new Dumbbell Workouts for Rapid Fat Loss series.
Get ready to learn how to lift your way lean and strong, and in much less time than an ordinary workout would take.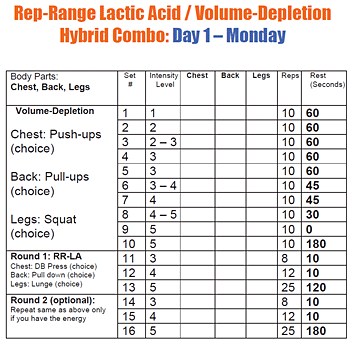 In today's video we're going to introduce you to your final Rep-Range Lactic Acid Workout with Superset Finishers for day one.
In this short video, we're going to cover dumbbell exercises for your calf muscles.
Before we get started, if you haven't watched them yet, make sure to check out our earlier videos on chest dumbbell exercises, back dumbbell exercises, superset finishers for your back and chest, and our Introduction to Lactic-Acid Workouts.
OK, let's jump right into your RRLA calves workout.
We're going to finish off the Rep-Range Lactic Acid workout for day one, which includes your chest and back, with your calves.
You'll see on your log sheet how we told you to save your calves for the last workout.
Now, a lot of people just skip calves, and that's completely fine. Calves are mostly genetic.
I can tell you personally that my calves are very small. I've had to work them very hard for years to get them to develop, whereas my dad grew up walking around the shop his whole life, and he has really, really big calves.
So you have two different muscles in your calf, and we're going to show you a couple different angles you can use to work both the gastrocnemius and the soleus calf muscles.[pro_ad_display_adzone id="8825″]
Your calf muscles require a lot more repetition.That's why, if you ever look at the calves of ballet dancers, you'll be blown away by their calf muscles.
So doing higher-rep sets with calves makes a lot of sense, because it can actually stimulate them and get them to grow.
If you're one of those people who already have developed calves, you might want to skip them altogether. That said, I still recommend having a balanced physique and working all muscle groups.
Calf RRLA Exercise Workout with Dumbbells
Ok, I have Ryan showing in the video a quick dumbbell Rep-Range Lactic Acid method you can use with three different calf workouts.
And because you have two different calf muscles, we want to make sure that we do an exercise that uses both straight legs, where we're extending the calf muscles and stretching them down to the bottom, and then where we're doing stuff with bent legs.
That way we can get both calf muscles involved and developing.
So Ryan has a dumbbell right here, with a step. So you're just going to find a step at home if you're not using a health club or a gym.
Proper Form to Avoid Injury: Position the balls of your feet on the platform, so that when you drop your heels down, there's no risk to you of falling off.
And notice where he's placing the dumbbell — right in front of him. And he's going to go ahead and do his set of eight.
Tip: Extend up as high as you can. Squeeze at the top and hold for a count of one or two. Stretch all the way down to the bottom, deep.
Now after this set, go ahead and step down. We've got 10 seconds.
We're going to hit a different angle next. In the video, Ryan's going to sit down on his heels and keep his butt in one spot.
Keep your arms straight when you use something to support yourself. You're only raising your heels.
This will really burn after 12 reps.
Proper Form to Get Max Results: The big mistake people make on this exercise is moving more than just your ankles and your heels.
Instead, make sure you just sit on your heels, and you don't move your glutes at all. You just move your ankles and your heels.
Tip: Again, extend up as high as you can go to the ceiling — straight up. Strive for a deep stretch at the bottom.
At the same time, you're not going to get a huge stretch because you're sitting down on your heels.
After the set of 12, rest 10 seconds, and then move to the final set with straight legs and no weight.
Tip: You can use a bar to support himself, or you could just use a step at home and grab the wall if you needed to.
We're going to pick up the tempo with this set, because we're reaching for that 25 rep step and want to stimulate lactate.
But you still want to get a real deep stretch at the bottom, and a real hard peak at the top of every single one of these reps.
Tip: So regardless of our tempo being a little bit faster, we still want that deep stretch, and that high peak contraction. That's how you're going to get your calves developed.
What you're going to do is, you're going to go ahead and do one round of these.
Next, rest a minute or two, and then go ahead and do a second round. And that's a wrap to the end of your first day of Rep-Range Lactic Acid Workout with Superset Finishers.
We'll see you guys on day number two for more rep-range lactic acid exercises!
Keep working hard and smart,
Shaun