Every time I get a massage my therapist is griping at me about how tight my hamstrings are—even though I stretch them frequently.
If you're a runner then you probably know about that pain that shows up periodically on your shins, knees or ankles. Injuries in general are a nagging side effect of an active lifestyle, but an injured knee or ankle is the worst.
Injuries to the IT band (Illiotibial band) are one of the most common, yet easily preventable.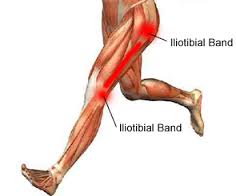 These injuries result from an inflamed IT band but there are solutions to this. All it requires is using a few simple stretches consistently.
The IT Band runs down your outer thigh, it is THICK and fibrous. (see image) IT Band Syndrome (ITBS) is a result of weak IT bands. The IT band is directly connected to your glutes. Weak or tired glutes can cause knee instability, which will eventually pull the knee to one side or the other causing imbalances and pain.
Your desk job or watching television only makes matters worse…
Do you know why your butt is weak and not "firing" properly? One word: SITTING.
It's a natural side-effect of our modern world (that's why I have a standing desk; I stand all the time while working). However, overtraining can be a big problem as well. If you are logging too many miles on the track, that too may cause the problem.
Remember: MORE is NOT better.
Studies have shown that strengthening your hips and glutes is one of the most effective ways to prevent inflamed IT bands.
Here are The TOP 3 IT Band Exercises:

1. Lying Leg Raises
Lying leg raise Lie on your right side with a therapy band around ankles. Lift your left leg to about 45 degrees in a controlled manner and then lower it back down. Do 30 reps per side.
3. Hip Thrust
Lie face up with your knees bent and feet on the ground. Lift one leg so your weight is on the opposite leg and your back.
Using your glutes, lift your hips, then lower. Do 25 reps per side.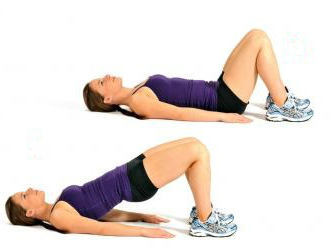 Don't forget to:
Gently foam roll the IT bands. Avoid rolling directly on the IT band itself, as it may aggravate it even further. Instead, gently roll the hips, glutes, quads, and hamstrings for about one minute each.
If you haven't had any pain in 7 to 14 days, then it's time for a short, easy test run.
Use a treadmill or stick to a flat, even surface NOTE: downhill running makes ITBS pain worse because it makes the supporting musculature that caused the injury in the first place to work overtime.
Prevention: Using IT band exercises once per week should be sufficient.
Stay fit and keep learning new things.
Your friend and coach,
Shaun