Did you know there are 4 studies published in prestigious scientific journals showing that one of today's most popular workouts can wreak havoc on your heart, thyroid, and belly fat?
Science shows it's a FACT: After you turn 40 regular exercise can make you fat, tired, unhappy, and old…
Study #1: Shows regular exercise SHUTS DOWN your #1 fat burning gland[1]…
Study #2: Shows regular exercise INCREASES your belly fat hormone[2]…
Study #3: Shows regular exercise INCREASES cravings and hunger[3]…
Study #4: Shows regular exercise makes you look OLDER?[4]…
It's one of the biggest LIES of the multi-billion dollar weight loss industry.
"Regular" Exercise is a FRAUD for People Over 40 Years Old…
Day after day, week after week, we see it more and more.
Research across the board is showing as you pass the age of 35 your body will NOT respond to traditional exercise because of the hormonal "shift" that takes place.
So if you're currently in your 40s, 50s, or 60s and you're not exercising and moving the RIGHT way for your age category, your body's youth hormones WILL SHUT DOWN causing your fat cells to quickly EXPAND.
Regular exercise works completely AGAINST your body's "natural hormonal state" making it impossible to lose belly fat or tighten up your trouble spots.
Here are 3 of the world's most popular exercises that every person OVER 40 who wants to strip off stubborn fat should AVOID—because they work completely against your current "hormonal state".
Age Accelerator #1: Crunches and Situps
If you still think you need to do endless amounts of crunches and sit ups or use some trendy stomach gadget to tone up your belly or see your abs, you need to STOP this nonsense now.
Traditional ab routines cause MORE harm than good.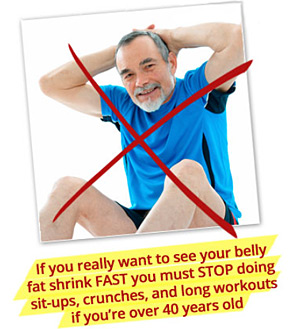 In fact, according to Men's Health Magazine, it takes over 22,000 crunches to burn one measly pound of fat! 22,000!
That's why you'll never get a flat, attractive belly or be able to see your abs crunching away on the ground or using some new infomercial gadget.
Even the world's top lower back and ab experts, like Dr. Stuart McGill, recommend NO sit-ups or crunches because they place devastating loads on the discs in your spine.
Repetitive, loaded spinal flexion places excessive loads on the lower back and is one of the leading causes of herniated discs.
This is one of the many reasons crunches and sit-ups are one of the WORST exercises you can do if you're over 40 years old.
So STOP doing crunches and sit-ups. They're no fun anyway.
FORGET about ab routines and stomach gadgets you see on TV that put devastating stress on your back and spine (they just make your waist THICKER—instead of SMALLER).
INSTEAD you should be using this 12-minute fountain of youth secret that increases your "youth hormones" up to 450%[6], making you look years younger in just a few short weeks. This movement will put a spring in your step—increasing your all day energy and accelerating your fat loss even further.
You can discover how to use this metabolic trick that's specifically designed for your age on the NEXT PAGE.
Age Accelerator #2: Today's Popular DVD Workouts
If you think using one of those popular workout-at-home DVDs designed for people in their 20s and early 30s, which only require LONGER exercise sessions, is the answer to get rid of belly fat or tone up your flabby body parts, you've been LIED to.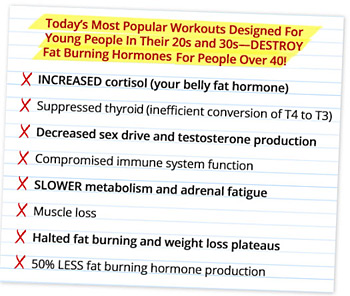 Yes, you'll experience some initial weight loss just like younger people do…
However, after a few weeks of using these ballistic types of workouts your body's current hormonal condition will be severely compromised.
Your body can't recover. You suppress your immune system. You're more susceptible to disease. You put your body at risk for injury.
Not to mention they can SHUT OFF Your Fat Burning Hormones, STOPPING your body from shrinking stubborn fat cells.
The stress of these workouts sets off a chain reaction inside your body that completely STOPS your body from being able to burn fat once you've entered your 40s, 50s and 60s.
FORGET about trying to kill yourself trying to follow some INSANE DVD workout designed for people in their 20s and 30s (they INCREASE your BELLY FAT HORMONE, DECREASE your SEX DRIVE, and DESTROY your metabolism).
INSTEAD: You should be using a simple 20-second belly-burning trick that releases the ONE and ONLY fat loss hormone responsible for breaking apart "trapped" fat cells so they can be burned off and permanently REMOVED from your body—making your belly flatter day by day.
When you were in your 20s and 30s you didn't need this hormone to lose fat… but now that you're over 40, this 20-second metabolic trick is your MISSING LINK to faster fat loss. It has even been shown to burn fat and calories for up to 48 hours AFTER using it.[5]
Age Accelerator #3: "Target Heart Rate" Cardio
Nowadays, every personal trainer and young fitness professional has been brainwashed to believe that you need to exercise in your "target heart rate zone" for AT LEAST 30 minutes or longer in order to burn belly fat.
It's actually a load of B.S. because it only measures fat and calories burned DURING the workout—vs. what happens afterwards.
Not only does it take WAY too much time, it programs YOUR BODY to be a "sugar burner," INSTEAD of being a "fat burner."
This means if you're a man or woman over 40, you could be fighting a losing battle EVERY time you use long-duration cardio.
Need proof? It's the easiest math in the world.
You must burn 3500 calories to burn ONE pound of fat.
However, the average 30-minute cardio session burns LESS than 200 calories.
This means you would need to perform seventeen 30-minute cardio sessions – a total of 8.5 hours of exercise – just to burn ONE measly pound of fat!
Ever noticed how endurance athletes, marathon runners, and aerobic junkies end up looking "skinny fat" and STILL carry a lot of belly flab even though they exercise 15 – 20 hours EVERY week?
That's because their bodies are STUCK in sugar-burning mode – instead of fat-burning mode.
BUT what if there was a way to RESET your body's fat burning switch so your body burns fat FIRST (instead of last) every time you move?
Well, now there IS a way.
There is a SUPER simple 12 minute metabolic "trick" you can use to TURN OFF your body's "dependence" on burning sugars – all while making your MOST stubborn fat your FIRST source of fuel EVERY time you move and exercise.
FORGET about using the LONG, BORING marathon cardio workouts you see everybody at the gym using (notice how MOST of them are STILL overweight?)…
INSTEAD all you have to do is use this 12-minute "fountain of youth" metabolic trick below and you WILL lose stubborn fat FASTER than all the cardio junkies you know—and you'll do it WITHOUT the dangerous side-effects of "traditional" exercise.
It's simple. It's short. It's specifically designed for the current hormonal condition of every man and women over 40—and it's proven to KEEP your body in FAT BURNING MODE, while quickly burning off fat from even your most stubborn areas no matter how old you are.
Learn exactly how to make this work on your body starting TODAY on the NEXT PAGE.
Remember, if you're in your 40s, 50s, or 60s and you're struggling to lose belly fat or tighten up your trouble spots using traditional exercise, it's really NOT your fault.
You just need movement patterns that are specifically designed for your age category and your current hormonal condition.
Movements so unique they SHOT GUN your hormones back to their "youthful" state, helping you shrink and incinerate stubborn fat cells in as little as 12 minutes.
How ANY Man or Woman OVER 40 Can Instantly SHRINK and INCINERATE
Stubborn Fat Cells In 12 Minutes FLAT

References:
(Eur J Appl Physiol. 2003 Jan;[masked]):480-4.)
(Skoluda, N., Dettenborn, L., et al. Elevated Hair Cortisol Concentrations in Endurance Athletes. Psychoneuroendocrinology. September 2011.)
(Sonneville, K.R., et al. (2008) International Journal of Obesity. 32, S19-S27.)
(Cakir-Atabek, H., Demir, S., Pinarbassili, R., Bunduz, N. Effects of Different Resistance Training Intensity on Indices of Oxidative Stress. Journal of Strength and Conditioning Research. September 2010. 24(9), 2491-2498.)
C. Bass, "Forget the Fat-Burn Zone: High Intensity Aerobics Amazingly Effective," Clarence and Carol Bass, www.cbass.com, 1997.
J. Smith and L. McNaughton, "The Effects of Intensity of Exercise and Excess Post-Exercise Oxygen Consumption and Energy Expenditure in Moderately Trained Men and Women," Eur. J. Appl. Physiol. 67 (1993) : 420-425.
I. Tabata, et al., "Effects of Moderate-Intensity Endurance and High-Intensity Intermittent Training on Anaerobic Capacity and VO2max," Med. Sci. Sports Exerc. 28.10 (1996) : 1327-1330.
I. Tabata, et al., "Metabolic Profile of High-Intensity Intermittent Exercises," Med. Sci. Sports Exerc. 29.3 (1997): 390 -395.
2011 study conducted by the American College of Sport Medicine.
J Clin Endocrinol Metab. 1992 Jul;75(1):157-62. Effect of low and high intensity exercise on circulating growth hormone in men. authors: Felsing NE1, Brasel JA, Cooper DM.
Related Posts You May Like: