Did you know the one type of exercise people spend the most time doing at the gym could be making you look older and age faster, especially if you're over 40?
That's right, extensive cardio has been shown in at least four studies published in prestigious scientific journals to wreak havoc and cause damage to your heart, thyroid and belly fat.
Study #1: Chronic cardio makes you look OLDER?1
Study #2: Chronic cardio SHUTS DOWN your #1 fat burning gland2
Study #3: Chronic cardio INCREASES your belly fat hormone3
Study #4: Chronic cardio exercise INCREASES cravings and hunger4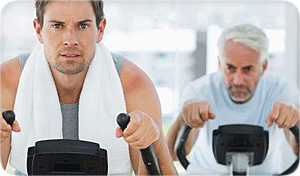 As you can clearly see, the published research cannot be denied.
HOWEVER…
The good news is that there are 3 specific times that "old school" steady-state cardio (in small doses) is a necessary evil if you want to permanently remove and flush out stubborn fat cells when you're in your 40s, 50s and 60s.
The #1 BEST time to do "old school" cardio: Directly after strategic high-intensity exercise bursts (aka—after entering the "Release" Metabolic Zone #2 where the belly-burning magic truly begins).
The #2 BEST time to do "old school" cardio: Directly after intense weight training or bodyweight training.
The #3 BEST time to do "old school" cardio: In between 20-60 second strategic high-intensity exercise bursts.[pro_ad_display_adzone id="8825″]
Steady state cardio can be used to protect and shield your body from "fat defense," which will STOP your body from re-storing over 40 stubborn fat cells by "burning off," FLUSHING OUT, and permanently removing them from your body.
But adding in cardio will only work if (and only if) you know how to enter the "Prime" Metabolic Zone #1, which flat lines insulin, and the "Release" Metabolic Zone #2, which releases youth hormones and shrinks stubborn fat cells.
And although Metabolic Zones one and two are perfectly customized for those over 40 to help make their midsections smaller and tighter in only 12 minutes per day, without the "Burn" Zone #3, they could be nothing but a waste of time.
Zone 3 serves as the foundation to ensure ALL 3 zones work together for the fastest weight loss possible.
These 3 Metabolic Zones are the "secret sauce" of the new Over 40 Ab Solution that I cover in more detail here:
The ONLY Metabolic Zone Training System for Men and Women OVER 40 that
Instantly SHRINKS and INCINERATES Stubborn Fat Cells in 12 Minutes FLAT!
So if you're over 40 and looking to trim up that belly, make sure to check out my Over 40 Ab Solution on the NEXT PAGE.
References:
1. (Cakir-Atabek, H., Demir, S., Pinarbassili, R., Bunduz, N. Effects of Different Resistance Training Intensity on Indices of Oxidative Stress. Journal of Strength and Conditioning Research. September 2010. 24(9), 2491-2498.)
2. (Eur J Appl Physiol. 2003 Jan;[masked]):480-4.)
3. (Skoluda, N., Dettenborn, L., et al. Elevated Hair Cortisol Concentrations in Endurance Athletes. Psychoneuroendocrinology. September 2011.)
4. (Sonneville, K.R., et al. (2008) International Journal of Obesity. 32, S19-S27.)
Related Posts You May Like: